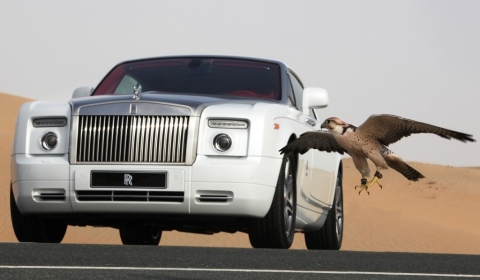 Rolls-Royce Motor Cars has revealed two new Bespoke Phantoms for Abu Dhabi UAE. Both are based on two different motifs inspired by the city's rich culture and natural landscape.
The four-door Phantom draws its inspiration from the stunning landscape of the Baynunah area in the western region of Abu Dhabi, UAE. The region is renowned for its sand dunes, captured through the interior and exterior styling of the car which incorporates shades of beige and brown, and a tan ever-flex roof. The inlay and marquetry were hand-crafted at Rolls-Royce's Goodwood plant. The Phantom was made using individually cut pieces of coloured veneer and hand assembled, using tweezers to ensure maximum precision.
The region's famous falcon, called Shaheen, was used as a basis for the Phantom Coupé. The marquise-white exterior is combined a twin coach line in Tudor red and offset by a red and Seashell leather interior. From the falcon inlay in brass, chemically etched from a single piece of stainless steel, to the falcon embroidered head-rests, which encompass 11-thread colours and boast a staggering 21,011 stitches per head-rest, they have achieved an unique interior.