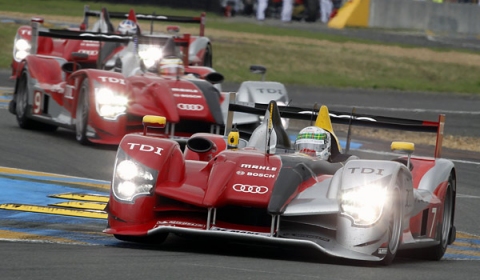 Audi has won the Le Mans 24 Hour endurance race for the ninth time in twelve years and set a new distance record. Three R15 TDI cars crossed the finish line first and handed Audi the fourth 1-2-3 victory after 2000, 2002 and 2004.
Things were looking doubtful for the Ingolstadt outfit during the race until the three works Peugeot 908 Hdi cars slowly dropped out due to engine problems. Audi's motorsport boss Dr Wolfgang Ullrich stated the firm's ninth Le Mans win this year was the toughest so far.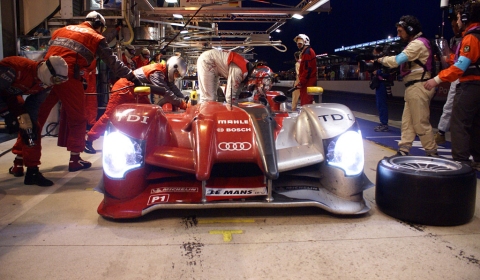 The three Audi R15 Plus cars pushed their way up to the front of the LMP1 class standings and remained there until the 78th running of Le Mans came to an end at 3pm. Victory went to Timo Bernhard/Romain Dumas/Mike Rockenfeller ahead of Marcel Fässler/André Lotterer/Benoît Treluyer and Dindo Capello/Tom Kristensen/Allan McNish. The #6 AIM Team Oreca Matmut became fourth being the first petrol engined LMP1 car. The LMP2 #42 Strakka Racing HPD car managed to be fifth. The lone #007 Lola Aston Martin ended up sixth.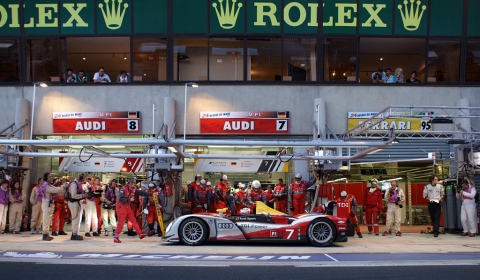 In the LMP2 class Danny Watts #42 Strakka Racing HPD took first place followed by #35 OAK Racing Pescarolo Judd and #25 RML Lola HPD Coupe being respectively second and third.
The #50 Larbre Competition Saleen S7R became first in the LMGT1 class and was one of the few vehicles that stayed in the race followed by the #72 Luc Alphand Aventures Corvette C6. R in second. The third and final position went to #52 Young Driver AMR Aston Martin DBR9R. All other cars did not finish.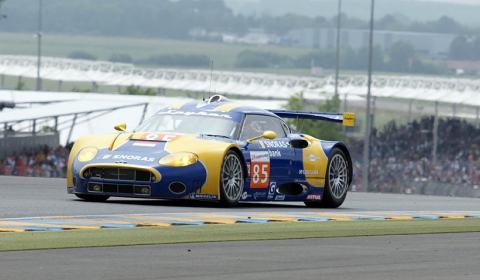 In the LMGT2 class all cars from Corvette Racing dropped out of the race. The final winner of the class was #77 Team Felbemayr Porsche 997 GT3 RSR. Behind him the #89 Team Hankook Ferrari F430 GT took second place and the #97 BMS Scuderia Italia SPA Porsche 997 GT3 RSR third. The #85 Spyker Squadron Spyker C8 Laviolette finished nined and last in their class after major problems with an overheating gearbox.
More pictures at Fourtitude.