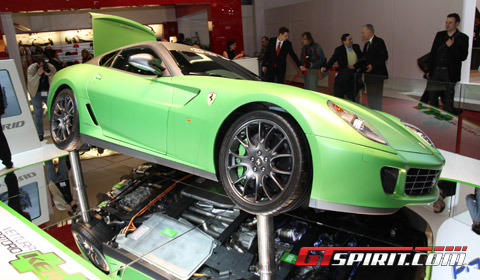 According to two patents unveiled by the guys over at Teamspeed.com Ferrari is working on two different new systems; Ferrari Turbocharged internal combustion engine and a four-wheel drive hybrid vehicle.
The first document suggests an engine with V-arrangement of eight cylinders, two exhaust manifolds, two intake manifolds, two turbochargers both including turbine and a compressor mechanically connected to each other. The document was filled in Italian 2.5 years ago by the Ferrari factory.
The second document is from the same period and discusses a four-wheel drive hybrid vehicle. The setup is a combination between an internal combustion engine and a reversible electric machine. The crankshaft transmits the power to the front wheels and comprises a gearbox and differential gear device. A second transmission line originates from a second power take-off end of the crankshaft and transmits the power the back wheels and comprises a second differential gear device.
For more information check both documents below.