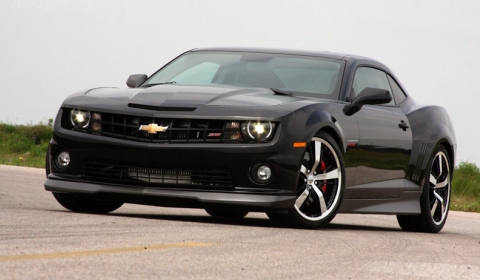 The guys at Hennessey have unveiled a new HPE800 Twin Turbo camaro upgrade using a twin-turbo 415cid stroker kit. The HPE800 upgrade produces a whopping 815hp and 788lb-ft torque.
The package includes a 415CID stroker engine, forged low compression pistons, forged steel connecting rods, callies 4340 forged steel crank, balanced and blueprinted, ARP main studs & head bolts, ported cylinder heads with valves & valve job, HPE800 custom spec camshaft, melling oil pump, 90mm throttle body, ported intake manifold, upgraded fuel injectors plus eight secondary injectors, upgraded fuel system including lines, rails & secondary pump, twin ball bearing turbochargers, dual wastegates, boost controller, stainless steel turbo manifolds, 3 inch stainless steel exhaust and high-flow K&N air filters.
Hennessey ensures professional installation, dyno tuning and road testing. On car itself there are HPE800 & Hennessey badges. There are a limited edition dash plaque & engine plaque with serial number, Hennessey premium floormats and one year or 12,000 mile limited warranty.
Additional appearance and performance options for the HPE800 are also available, like exterior graphics package, lightweight wheels, full coilover suspension kit, Hennessey CarbonAeroTM body kit and custom leather interior.