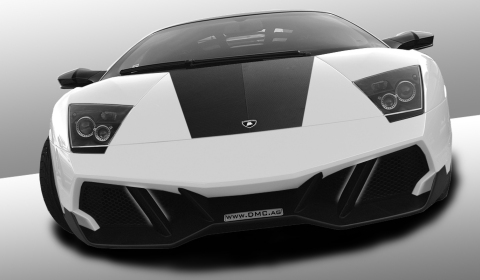 A new German tuner has entered the stage. DMC tuning from Dusseldorf is specialized in refinement of luxury automobiles by creating enhanced body kits and car interiors. Their latest project has been developed for the current Lamborghini Murcielago LP 670-4 SV Series. The program includes light body components made of carbon fiber, white-carbon rims, and an interior covered with the ostrich leather.
The front features a redesigned spoiler, a new front-hood and sidely attached airvents, all made of, pure carbon fiber. The QV's sides showcase an optional carbon fiber cover of the gasoline tank and carbon fiber wings. The newly designed rear presents an aggressive carbon fiber diffusor that stabilizes the rear axle by providing the necessary down force.
On the inside the DMC Quattro Veloce got a special treatment. The leather used is original ostrich for the head rests, while the remaining driver cabin has been decorated with cattle leather that has been treated to look like ostrich to improve durability. Carbon fiber has been applied in the interior as well.
The body kit is strictly limited to fourty pieces world wide. The first automobiles are expected to be ready in July. The tuner is highly suggesting to fly your LP670 to their workshop in Germany for installation, but if you have a local partner that can process the refinement you may place orders for the individual parts as well.