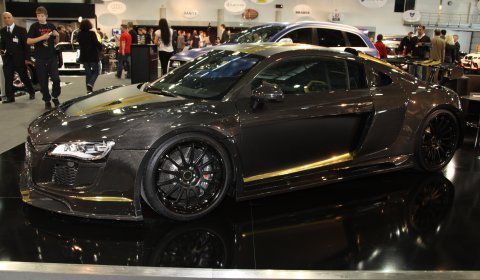 PPI has extended its line-up of the Razor series with a new member. The full carbon Audi R8 Razor GTR 10 Edition. The '10' refers to the V10 engine, the perfect 10 and the limited number of sport cars produced by the German tuner.
The program is quite extensive. The carbon fiber body kit includes a new front and rear bumper, front hood, A-pilars, doors and side skirts. The side sills include cooling outlets for the front brakes. The carbon fiber side pod is made of one piece. The newly developed rear spoiler produces more down force.
The vehicle is equipped with carbon fiber wheels. This Razor GTR Edition will be the final supercar to include these wheels. The badges on the vehicle are made from polished stainless steel and cost € 1000 each.
On the technical side PPI Design changed numerous parts. The exhaust system has been inner changed and produces an additional 30hp. The new headers produces 20hp and the air filter adds a whopping 13hp to the package. The total amount of power produced by the new setup is a confirmed 599bhp.
The engine is protected by a rear glass cover which is UV and heat-resistant. It also includes ten slicks linking to the 10 cylinders inside the engine.
Additional options are a ceramic brake system or PPI carbon ceramic pads, a hydraulic nose lift system raising the nose of the Razor GTR 10 up to 45mm and a racing suspension.
The interior got a complete carbon fiber treatment and 14-carats golden stitching in the doors, dashboard, seats and steering wheel.
The PPI Razor GTR 10 Edition is the most expensive Audi R8 ever build by the German tuner. The limited sports car is available at a price of € 360.000.