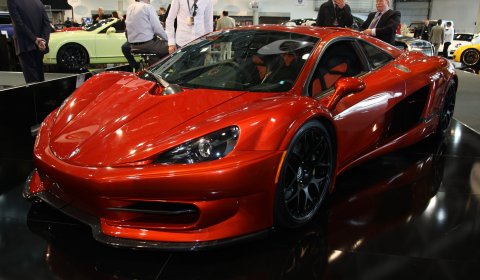 The Canadians have crossed the Atlantic to Monaco. Their supercar the HTT Pléthore LC-750 is showcased at Top Marques and the owner of the company gave inside into the availability of the vehicle.
The vehicle on the pictures is production ready and available around the world. HTT has worked for 13 years on the sports car producing 750hp (optional up to 1300hp). It has a body&frame of full carbon fiber. The complete is weighing only 1149 kilos. The Pléthore is a three-seater with central driving position supercar.
The 6.2 liter V8 engine with electric injection is linked to a six speed manual or an optional six-speed sequential gearbox. The powers is converted to the back wheels.
There are no dealers available yet outside the Canadian borders. However, pre-orders are taken at this moment.
Five cars are sold already at a price of € 335,000 a piece.