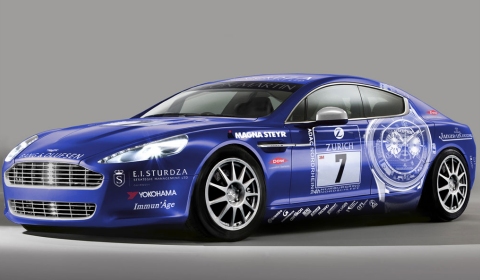 Aston Martin returns to the starting grid of the Nordschleife circuit for the fifth consecutive year at the 38th ADAC Nurburgring 24-hour race on 15/16 May 2010. The Rapide will compete in the 24-hour race, as has been the case with other recent Aston Martin road cars, the V8 Vantage and V12 Vantage.
The Rapide will compete in near-standard specification apart from the mandatory changes required to compete in the race, such as essential race safety modifications, interior trim removal to reduce weight, re-tuned suspension and slick tyres designed for track use. The "luxury" sport saloon will be driven by a team of engineers from the company's Gaydon headquarters in Warwickshire, England.
The Rapide race car will be joined by a V12 Vantage again modified only slightly for racing. Further details on the V12 Vantage and the full driver line-ups for both Aston Martin racers plus details on a number of customer teams competing in the race will follow in the coming weeks.