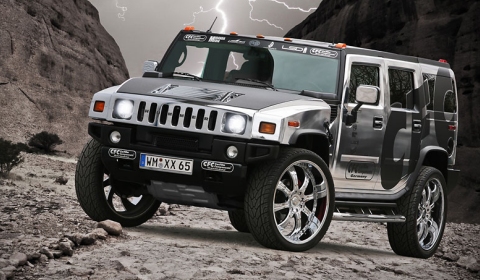 Maybe you are the next pimp to drive this Hummer H2. Tuner CFC from Weilheim Germany has trimmed its massive SUV with a chrome lamination. The hood is covered with a black carbon finish. The side windows, along with the rear window, were furnished with a classic-style colour.
They also installed 28-inch TunerShop light-alloy tyre rims together with mammoth-sized 325/35 R28 pneumatic tyres by Kumho. Wimmer supplied a performance upgrade up to 480hp, LSD wing doors, as well as a Fox sports exhaust system.
Inside the cabin there are some enhancements as well. You will spot some car entertainment like 17 Axion displays (on the ceiling, sunscreen, central console between the front seats, trunk and doors), a DVD-player, XBox Game Console, Xetec amplifiers, Xetec subwoofers and digital television. For your personal music a 1.360 Watt RMS music system is available.
To finalize the setup they have installed front and backward movement cameras simplifing the parking process and right next to your seat you have a mini-bar.
Any comments on this 'wonderful' creation normally driven by rappers and R&B artists?