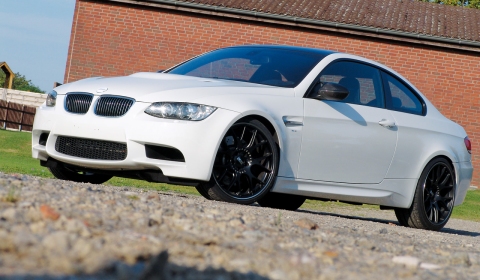 Manhart racing has started the offering of a three stage power package, which strengthens the eight cylinder engine up to 655hp.
The first stage is a small compressor using a supercharging pressure of 0.35 bar, producing up to 515hp. In stage II the supercharging pressure is increased to 0.50 bar, whereby 585hp is achieved. In the third and largest build-up stage a large compressor from ASA with a supercharging pressure of 0.67 bar is combined with an exhaust system with 70mm pipe diameter and two 200 cell race catalytic convertors. A full 655hp are available catapulting you from 0 to 100km/h in just 3.7 seconds. The top speed is just over 350km/h.
They used a Bilstein PSS10 threaded suspension and black BBS wheels on the vehicle shown here. With 9Jx20 ET20 with 245/30ZR20 at the front and 10.5Jx20 ET20 with 295/25ZR20 Continental tyres at the rear they should convert all the 'new' power to the road. Stopping is performed via new 365mm brake discs at the front axle with floating callipers from the BMW M5 E60. The standard of the M3 E92 with 345mm discs is used at the rear.
Manhart also developed an exhaust system with a constant diameter of 70mm which ends with four 82mm end pieces. The stainless steel version produces an extra power of around 18hp. The titanium version generates 25 additional horsepower and has a weight advantage of 50% compared to the standard technology.