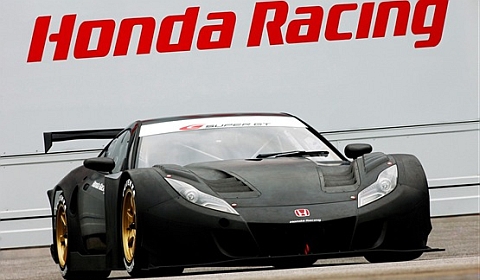 Since Honda axed the NSX, way back in 2005, we've been wondering when we'll see a new one. Whilst we're sure that there probably won't be a replacement (despite the apparent success of the Nissan GT-R and Lexus LF-A) it does seem that Honda will be putting their NSX project to good use. Sources close to Honda have been suggesting that the shelved NSX project will in January next year return as a thoroughbred racer.
The NSX project looked to be on the road to completion before the economic crisis hit. Shelving both the NSX project and their Formula 1 team, Honda have safeguarded the company's profitability during the tough times. Now it seems, they are ready to start injecting money into the half-ready project.
Details are not clear at the moment but it seems that the NSX could be branded as an Acura Sports project and may feature a 3.4-litre V8 to meet Super GT regulations. If this is the case, the planned four-wheel drive will be exchanged for a rear drive layout.
The car will be called the HSV 010 when it's unveiled, possibly in Japan. We're hoping it gives rise to another NSX road car project. Until we get official details, take a look at the leaked photo we found (above).
[Via Autocar, Picture via TheMotorReport]