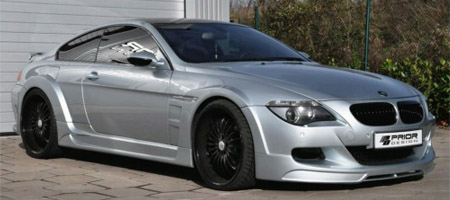 Prior Design has released details of their take on the BMW E63 M6, called the PD550, a wide-body version of their PD450 model.
The body kit added to the PD550 features new front wings, side skirts and rear arch flares, which results in the car being wider by 80mm. Prior-Design however have left the 5.0 litre V10 alone, simply adding their own custom made PD silencer to the four stainless steel tail pipes. The PD550 also comes with the option of two wheel sizes, either 20 inch or 21 inch. While the suspension can be lowered by up to 30mm at the front and 25mm at the rear.
Prior-Design also offer a non wide-body version of the E63 M6 called the PD450. The price of both is available on request from Prior-Design.
[Via WorldCarFans]