I have driven many different Lamborghini's: Countach, Diablos, Murcielago's, Gallardo's, but they were all for short periods of times: around the block, during a rally, autocross, lap around a track, short test drive, etc, but never had one for an extended period of time. Until beginning of last month when Lamborghini was kind enough to hand over the keys of a brand new LP560-4 Spyder, white with black interior and gloss black Cordelias.
The word 'excited' doesn't even come close to describing what I was feeling the night before I was scheduled to pick the car up. Restless night, eyes open in bed waiting for the alarm clock to go off and thinking to myself if I'm this excited to get the car, how sad I'm going to be when I have to give it back! Blah, let's not even think about that…
Show up at Manhattan Motorcars first thing in the morning, look for the person in charge and wait outside until they bring the car down. Gates open up and here it is! Engine already running, the cool LEDs in the headlights on, giving the car such a savage look. I get the keys, hop in, adjust mirrors, seat, put the top down, rev it once, giggle like a little girl and head straight for Lincoln tunnel which is a couple of blocks away from Manhattan Motorcars.
As I'm driving through the tunnel in first and second gears keeping the RPMs up to hear that magical sound from the exhaust bouncing and echoing off the walls, I remember Richard Hammond driving a Zonda F Roadster through some tunnel in the Alps – "This is my new home, in fact, I would sell my house, buy one of these and live in a tunnel". It's an experience and a half, just amazing!
Turns out I'm not the only one enjoying the sound as an SUV catches up to me full of teenagers and every single one of them has their phones out recording and taking pictures. Thumbs up, many encouraging shouts and I find myself downshifting yet again and giving it one last blast and out of the tunnel – "I want to do it again!"
Out of the tunnel, maneuver through the horrible exit ramps towards NJ Turnpike, pay the toll to a smiling toll booth guy, who takes out his phone to take a picture and on to the highway, which luckily didn't have much traffic.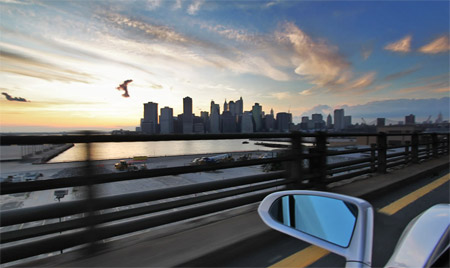 Now I should mention that I am not planning on going over any numbers and technical info as that has been posted on here already after the official release. But I will tell you what it was like to have a $265K 2010 Lamborghini Gallardo LP560-4 Spyder for a week in New York City – the good, the bad, the experience.
Cruising on the highway I start noticing how different it is from the previous Gallardo Spyder. The E-gear is smooth, shifts are seamless in regular mode, crisp and precise in Corsa mode, none of the jerkiness or hesitation. The ride is firm, but smooth, almost too smooth, too refined, which is a good thing and a bad thing. Good as now you can take very long trips and not destroy your back and bad as it just does not feel as planted and firm around fast exit ramps and turns as the previous Gallardo Spyder, might be just a deceiving feeling, not sure.
Another deceptive feeling about the car is the speed, it's just sooo fast. Before you even realize you are in the 140-150mph range and the car gets there just as quickly as it gets from 60 to 110mph, it's almost like a video game, just non stop acceleration, keeps pulling and pulling… I have driven a LP560-4 Coupe up to 202mph on a runway, and yes, as expected it is faster than the Spyder, but going that fast with the top down makes up for it.
I pull into the office parking lot, top back on, big smile on my face, get to my office and the gruesome endless countdown to 5pm starts…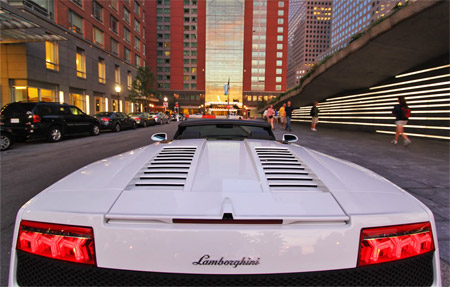 After a little bit rumors start spreading around the office about the Lambo parked outside and I end up getting out at least a dozen times to show the car, start it up and give rides – not that I mind! Lunch break turns into an adventure as I drive the long way to the restaurant and get pulled over on the way back. Thankfully the police officer was more interested in the car than the 92mph I was doing in the 65mph zone.
It is widely known that NYC is terrible for high performance cars – bad roads, endless potholes, slow traffic, crazy cab drivers, traffic lights every 50 feet etc… all true, but if you know the area well you can avoid most of it and still have a ton of fun driving in the city. Just the sound resonating off the walls of the concrete jungle is a reward enough and having 4 tunnels within 5-10 minutes of driving and the absolutely stunning scenery make up for a memorable drive and provides a great amount of FUN!
So if you are from the NYC area and never take your exotic to the city, you're missing out! Go on a weekday late evening, or early weekend morning, drive down West Side Highway, go through Times Square, park in front of a restaurant somewhere in Soho, hit the tunnel joining FDR and WSH and drive on Williamsburg Bridge (can go fast on it!).
Evening turns into night, night into late night until I realize that I have been having so much fun today I haven't eaten, it's 3 AM and I'm exhausted! What a great day.
The next day the usual commute to work all of a sudden turns into a blast! Why isn't my office 200 miles away? Another restless day at work, spending a lot of time planning the evening and where to go. Thinking about what I'm going to write about and how to make my review different from others… So during the whole week of having the car I gave rides to at least 30 people, more than 90% of them had never been in a Lamborghini. Seeing them so excited, hearing some of them scream and laughing at the funny faces they would make when I redlined a couple of gears was priceless.
On one of the nights I picked up a girl I used to date and took her for a ride as she always liked cars and drives a stick shift GTi. She was beyond excited, after I took her to a tunnel which was empty and really gave it the beans she was speechless for a moment, then said "I think I just had an orgasm, can we go for a second one?" We did a bunch of more tunnel runs…
A close friend who always makes fun of me when I talk about cars as he can't even tell Mercedes from BMW, doesn't drive and has absolutely no interest whatsoever in cars came for a ride with me, and after it said "Now I get it".
Another friend's sister screamed so loud when I passed only 5K rpm (where the exhaust really opens up) that I got scared and got off the throttle. She was not happy, yelled at me "Why you slowing down?!"
The car just kept giving more and more, endless bundle of joy really, it makes you think you owners are so lucky. If you have your car hiding in the garage with a thick layer of wax on it, do it a big favor and sell it to someone who will drive it. There is so much fun to be had and so much excitement and joy to share with the world, the amount of people giving thumbs up, smiling with positive comments was huge. I'm sure I've made a bunch of peoples' days by either revving it for them, or giving them rides, letting them sit in it for pictures or just answering their questions about the car. There were a bunch of kids that I run into that sparked love for cars and Lamborghini specifically and will later find motivation in it to study harder, work harder and be more positive.
I keep reading about complaints that some don't take their cars out because of public perception and negativity, but ask anyone and to every negative comment they get 20 positive ones. Sure I got some negative ones also, the occasional smart ass "It's a rental", "It's a kit car" or "It's daddy's", but to any one of those there was a sea of positive comments. Some people were just funny with the "Thanks for washing it for me, I'll take it from here" or "You want to swap cars?", but mostly "Incredible", "Love it", "Amazing car" etc…
On one of the drives I went to meet with a couple of friends and one of them had just picked up his LP560-4 Spyder, black on red, stunning car. He also has a 2007 Gallardo Spyder and said the difference is huge, that he can't see himself driving the '07 anymore and will be selling it. He also confirmed what I felt about the car's handling.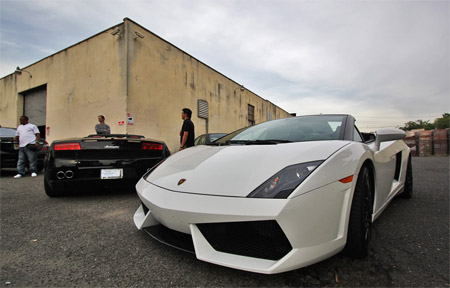 By now it's Friday already and I have gone 4 days with 2-3 hours of sleep and was thankful when it started raining on Friday as I was happy to park the car for the night and catch up on sleep. On the drive home in the rain the car behaved like a champ, not one hairy moment and it was coming down hard. Granted I wasn't pushing it and just driving it regularly with traffic, but was still good to know that even if there is 30% chance of rain in the forecast you can still take the car out and not be scared of the rain, 20 seconds for the top to unfold and you are good to go.
Speaking of usability, this is where the car shines. I drove it everywhere, grocery shopping, picked up laundry, it's easy to park as it's very small, mirrors fold, sitting in traffic you forget sometimes you are in a Lamborghini as just one press of a button puts you in automatic and you can relax, listen to music or get on the phone (comes with bluetooth). Raising the front is quick and easy, used it a lot and never had a problem. I can see owners putting a lot of miles on these cars, I know I would. One complaint – Why not put XM or Sirius in it standard and pay for say 5 years upfront, I think the price is hefty enough to include that small convenience many would enjoy.
As the fun week was coming to an end I took the Spyder out for one last night, cruised NYC, really soaked in every last bit of fun before having to return it on Monday, which by the way, was one of the toughest things I have ever done…. By far one of the best weeks of my life. I love Lamborghini more and more…
Hovik