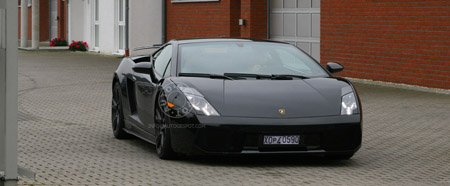 The first spy shots of the Lamborghini Gallardo LP560-4 Superleggera testing at the legendary Nurburgring, surfaced today on Autogespot.
It is good to see that the Superleggera version of the LP560-4  is appearing at an earlier stage of the LP560-4's life compared to when the original Superleggera appeared during the original Gallardo's life span.
There is not at lot known about the technical details of the LP560-4 Superleggera. Will Lamborghini decided to give it the same rear wheel drive, drive train as the LP550-2? or will it keep the four wheel drive system in the current LP560-4? How much power? How much weight will be saved? Price? These are all questions that we are asking ourselves and can't wait to find out.
We expect to see the production version unveiled next year (Geneva?) with delivers starting late next year/early 2011.
We'll let you know when we know more!
[Via Autogespot]