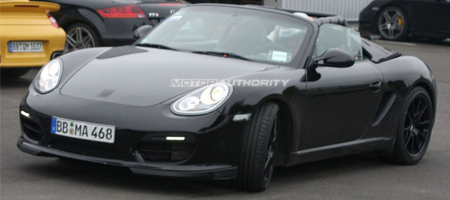 Spy Shots have surfaced today of Porsche testing a new incarnation of the classic Speedster design they first used on the Porsche 356 back in 1954!
Since then Porsche have only used the Speedster design twice, as part of the 930 & 964 generations of the Porsche 911, both of which were produced in limited numbers.
The Speedster will feature the iconic double humps on the engine cover along with a chopped windscreen. We also expect it to have q custom alloy wheel design, a unique body kit and a stripped back interior.
The Speedster should hit showrooms next year as a send off to the current generation Boxster, as the next incarnation of thee Boxster is due for a 2011 release.
[Via MotorAuthority]