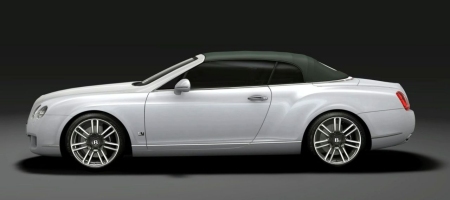 Bentley Motors will be present at the 2009 Frankfurt Show and preview a new design for the company's Continental GT and GTC models. The Series 51 Continental models represent a new Bentley exterior and interior styling.
Series 51 is named after the year that the first official styling department was established in Crewe by the John Blatchley, who shaped the original 1950s Bentley Continentals. Every Series 51 car will feature an interior colour palette and exterior design cues.
As example, Bentley will display a Continental GTC at Frankfurt which features Imperial Blue as a main and secondary hide, Linen seat and door inserts and Newmarket Tan as the accent colour. Other design changes include a matching truck mat, diamond quilted seats and door pads, and a limited-edition Amboyna veneer.
Both the Continental GT and GTC have 20-inch 14-spoke polished Diamond wheels with a dark centre cap. The cars will be distinguished by a signature '51′ badge on the front wings. The Continental GT got a new two-tone paint with one colour running over the bonnet, roof and flowing down to the boot.
The new Series 51 models can be ordered at local dealerships from 1st September 2009.