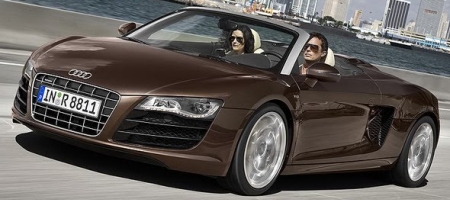 The official pictures of the Audi R8 Spider have made it onto the web a week before its official release at the Frankfurt Motor Show. We saw the Spider before during the making of the new movie Iron Man II. The convertible gets a traditional folding top that tucks away behind the passenger seats.
If you look closely you will notice some differences with the coupe. There is a new redisgned engine cover with two air vents for cooling the 5.2-litre V10 engine producing 386kW (525hp) and peak torque of 530Nm. The spider will only be available with this engine and not the V8. Audi calls this an evolution of their product line-up. They introduced the V10 so the logical next step would be a convertible V10 and not a version with a V8. Other changes are the newly styled air-vents and the elimination of the side-blades.
We from GTspirit.com have a wish and call upon all Audi tuners – PPI, MTM and ABT – to come up with a decent engine cover for this new Audi member. There is no glass in it, so how can we see the engine. Please give us a decent engine cover.
[Via Carscoop]