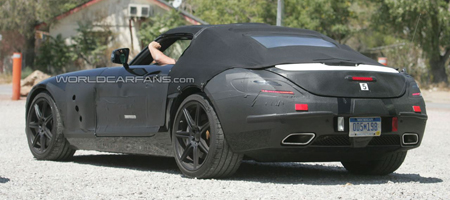 Nothing new to show you from these spy shots, we just thought you might be interested in seeing them! They were captured in the US, testing in the heat of the Californian deserts. The SLS is due to be officially unveiled at the IAA 2009 where we will finally know the official shape of the car. The SLS Cabrio will likely be released at a further date and will feature standard doors and an electric soft-top, like that seen on the SLR Cabriolet.
Mercedes have already confirmed the petrol engined SLS for production and have also confirmed that an electric powered version is currently being tested and is planned for production.
The SLS that will go on sale to start with is powered by a 6.3 liter AMG tuned V8 and delivers 571bhp and 650Nm of torque. This means 0-62mph (100kph) is dealt with in just 3.8 seconds and it will keep going until 195mph (315kph). A seven speed double clutch gearbox puts the power to the ground and an aluminium space frame body keeps the weight down to just 1620kg.
We can't wait to see it at Frankfurt next month!
[Via WorldCarFans]