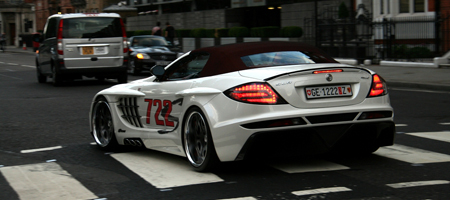 FAB Design's attempt at modifying the SLR coupé didn't go down too well with you (or us) last time. It went straight into the Overkill section… which, coincidentally, is where it's convertible brother, the FAB Design SLR 722 S, is going to go! Typically, the SLR 722 S features more over-the-top styling carried down from the standard FAB Design SLR.
As with the FAB Design SLR, the SLR 722 S features six exhausts and an attention grabbing bodykit. Features include a vampire-esque front bumper, deeply contoured side skirts and gaping rear diffuser are unmissable. It's highly flared wheel arches make it look like something out of a comic book.
What strikes us most about this car is not the modifications which were made to it. Instead it's the amount of FAB Design branding on the car. Having replaced the Mercedes badges with the company logo, they've also added badges on both sides near the exhausts, as well as badging on all four alloys. As if this wasn't enough, a logo has been applied to the side which pushes the car firmly into our overkill section!
[Photo credits: AutogeSpot and Richard de Heus]