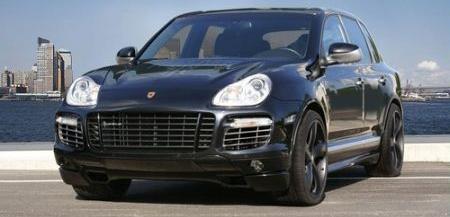 Last year Hofele created a package for the current Cayenne and now presents a package for the very first Cayenne series. Hofele installed a number of OEM parts that combine the Turbo and GTS looks including front Turbo indicators and a side air guide.
The tuner prefers the installation of air streamers on the central part of the front bumper for Turbo and Turbo S models. Owners of the first Cayenne can choose to use their existing fog lamps with the new bumper together with front fenders and headlights. The Porsche logo does not come with the package but can be optionally placed on the new bumper.
At the rear you get Hofele steel double exhaust pipes and a lower metal bumper bracket. Even with these changes the original tail lights and the upper bumper can stay the same as on the original Cayenne. Of course you'll need a second generation Cayenne GTS on which the package will fit perfectly.
[Via WorldCarFans]