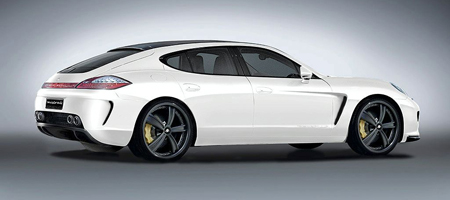 There's nothing official about the Gemballa Mistrale at the time of writing this article, however, several websites have been showing off images of the car which appear to have been leaked from the German company. This means that we can only tell you the few obvious cosmetic details that are obvious from the pictures.
The most obvious change is the new rear bumper which incorporates a new air scoop and a general re-style. A new diffuser is also obvious as well as a carbon fiber divide between the window and the bodywork.
In typical Gemballa fashion, the exhaust's have also been re-positioned and re-designed to look like those on the Carrera GT. Instead of the Carrera GT's dual exhaust's, this variant of the Mistrale has gained quad exhausts.
The front has also been given a bit of a re-design with new air scoops on both the bumper and the bonnet. To complete the look, a new set of huge alloys have been applied.
We'll let you know when something a little more official is released. In the mean time, tell us what you think of this Panamera. Is it better that the standard car?