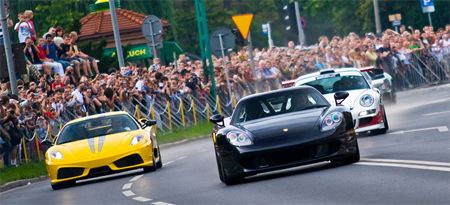 The last weekend of June a range of supercars gathered in Poland for the start of GT Polonia 2009. We were there to check it out and enjoy the fifth anniversary of this outstanding event. GT Polonia is aimed at supercar owners that like to take their cars out on track for a few days. Apart from the extensive track action there were a couple special events that made this years edition even more memorable for the participants!
Sopot
For most participants GT Polonia started with an optional pre-event gathering in Sopot on the shores of the Baltic Sea. The Grand Hotel served as a great location for the supercars and their drivers to gather and to explore the nightlife in this vibrant polish city. The supercars came from all over Europe including the Scandinavian countries, the United Kingdom, Spain, Poland and the Ukraine and included a colorful range of Ferrari 430 Scuderia's, Lamborghini Gallardo's, Murcielago's, Viper's and Porsche's.
Poznan
The day after the pre-event gathering in Sopot, all participants met in Poznan for a unique chance to show their cars in the closed streets of Poznan. The event is not all about racing and driving, a large part of the events success is due to the friendly people and the great parties. Since we had three days on track there was no rush to be at the track early in the morning every day so we had some good opportunities to enjoy the nightlife in Poznan!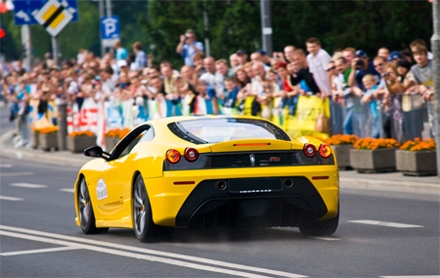 All the supercars brought a huge crowd together in the streets of Poznan. The organizers and local government estimated over 40.000 people came to see GT Polonia on sunday the 28th of june in Poznan. The video below shows some of the cars racing down the streets and a little drag race between a Lamborghini Murcielago LP640 and a Ferrari 430 Scuderia.
Tor Poznan Racetrack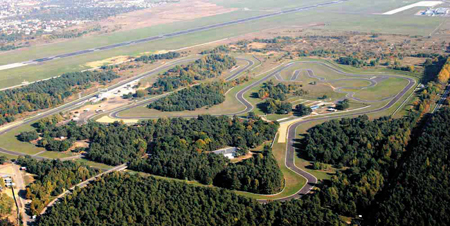 Build in the 70's the 4,083 km long race track near Poznan is one of the older race tracks in Poland. Tor Poznan is a technical track with a couple nice combinations or corners and good opportunities to overtake.
The organization and instruction during the 3 days at the track were outstanding. On the final day everyone had one lap judged on braking, line driven and corner speed. In four corners judges gave scores from 1 to 10 for the overall performance and this added up to a total. Overall the yellow Gallardo scored first place with an average score of 9+.
Overall GT Polonia is a great event with a lot of action for both the driving enthusiast as those that enjoy a good party with petrolheads and like-minded people. GTspirit will be back next year!
More information about GT Polonia & Tor Poznan:
Special thanks to: