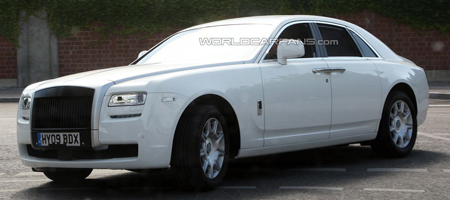 Last month we were able to show you pictures of a lightly disguised Rolls Royce Ghost waiting at the docks in Dover for a ferry. We're now able to show you it's sister cars, a white version and a two-tone version that were spotted recently by spy photographers. White is one of the more popular colours for the Phantom which means that it will more than likely be a colour of choice when the Ghost finally hits our show rooms.
The two-tone pictures were captured in southern Germany. We're also able to share with you some new technical details about the new Rolls Royce Ghost and it's underpinnings.
The Ghost will measure in at 5,399mm in length, 1,948mm width, and 1,550mm in height. Its wheelbase will stretch 3,295mm which gives enough space for five seats. Suspension will including a new four corner air suspension system and a new chassis management system through which to control it. The computers read off sensors positioned around the car and constantly adjust the suspension for optimal ride qualities. Included in this is a lift system as well.
Rolls Royce Ghost Spyshots
[Via WorldCarFans and MotorAuthority]