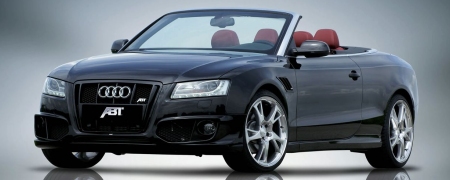 ABT has used its knowledge and has done a makeover of the Audi A5 Cabrio. They call it the ABT AS5 Cabrio. The open AS5 provides you with driving enjoyment, especially of course when the sun is shining. But even with the roof closed the beautiful cabrio looks rather cool. To achieve this look some changes were made to the exterior and motor management.
ABT have changed the front with the ABT grill, which additionally accentuates the area around the headlights and fog lights, the front apron and the side sills. The rear apron and exhaust unit are brand new and can be combined with BR alloys in 19 or 20 inch.
Regarding the engine there are currently four performance increase packages available: with ABT POWER, which is the optimisation of the electronic engine management system, the 2.0 TFSI receives a sporty 275HP (202kW) instead of the serial 180 HP (132kW) or 211HP (155kW). With the 2.7 TDI, 190HP (140kW) become a high-torque 230HP (169kW). With the three litre diesel this is increased to 282HP or 207kW (series standard: 240HP / 176kW). The ABT POWER S technology is also available to the V6 diesel with the largest engine capacity, which also employs an ABT turbo charger. 310HP (228kW) and with 610Nm are the figures for this upgrade.