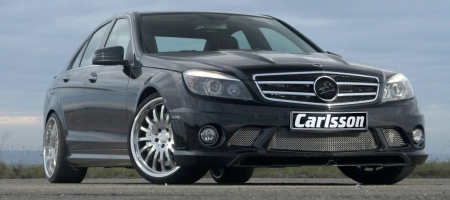 The German tuner Carlsson has unveiled their latest addition to the line-up – the Carlsson CK63S. The C63 AMG is used as basis of the complete package shown last October. The new car is a mixture of worlds delivering a touring limousine with loads of power and trimmed for sportiness.
The main centre is the engine tuning. Carlsson engineers have squeezed out 565hp (416kw) and 685Nm of torque out of the standarad 6.2-litre AMG V8. Standard you get 457hp (336kW) and 600Nm. This Carlsson C-class accelerates from zero to 100 in only 3.8 seconds and is therefore 0.7 seconds faster than the already speedy 4.5 seconds in the serial edition. The maximum speed is electronically limited to 300 km/h and therefore rises by 50 km/h.
The new aerodynamics kit consists of a new front- and rear spoiler and the front spoiler lip, rear silencer, oval stainless steel end pipes and wheels measuring 8.5×19 inches on both axles or if desired 10×19 inches at the rear axle.
The interior reflects what is being done underneath the bonnet. The car contains a specially designed sport driving wheel with a leather or ultra-suede cover. Doors and side parts of the seats are lined with finest ultra-suede in charcoal with a light-coloured decorative stitching. Aluminium pedals and door pins made of aluminium so the Carlsson detailing.