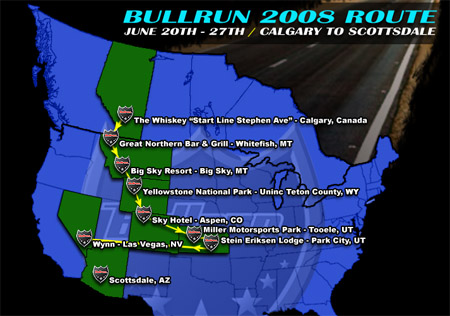 After driving more than 2000 miles in four days (Calgary – Big Sky – Aspen – Park City – Las Vegas) the Bullrunners partied the night away in The Palms in Las Vegas last night before heading back to the Wynn to get a couple hours of sleep or in worst case pick up their luggage and car keys for todays leg. Today the Bullrun circus heads from Las Vegas to Beverly Hills with hopefully another stop at a racetrack.
Sadly not every car survived the past days cross-country. Mr. Angry drives a Ford Fusion after his matte black 1969 Dodge Daytona was send back to New York with a broken wheel on the first day of the rally.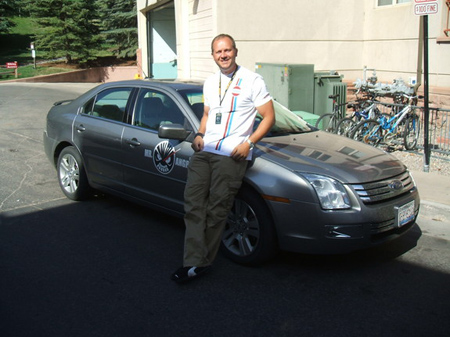 The only Hummer in this years Bullrun, belonging to Team Wu, broke down at Miller Motorsports Park after doing a couple laps around the track. Oil covered the track and parking lot when the front differential mount came loose, rotated up and punctured the oil filter.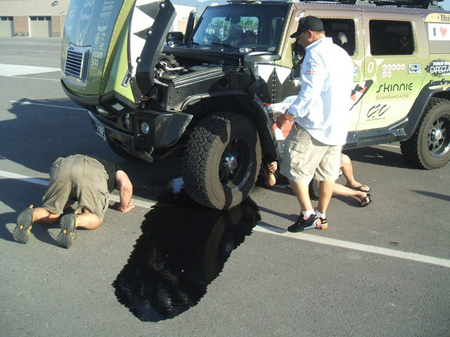 Famous Bullrun veteran Richard Rawlings also encountered some problems with his Escalade powered Chevy Caprice. On the way to the first lunch checkpoint in Whitefish, Montana the car broke down with a bad fuel pump. After working around the clock to fix the problem, a replacement fuelpump was found and they managed to catch up with the other Bullrunners.
Also the Team Angry F430 experienced clutch problems and had to visit the Las Vegas Ferrari dealership to be fixed. The Bullrun 2008 ended for the other F430 already on the first day after rear-ending the Bullrun Corvette.
Ashley van Dyke reported that the Calloway Race Edition Corvette Z06 also had problems and they are now driving a normal Z06. Other news includes the guys from Streetfire.net, they will join the Bullrun today in a classic Cobra. Finally the rumour about a crash involving one of the Bullrun cars in St. George, Utah is not correct. The Team Angry Audi R8 witnessed a crash between two non-bullrun cars and stopped to assist.
Stay tuned for more updates or tune in to our Bullrun forum for the latest pictures and Bullrun chat!
[via CarDomain]