A European Patent Office filing has revealed a new Ferrari targa top design. Our friends over at AutoGuide revealed that drawings showing the new targa top have been filed indicating that Ferrari might soon be thinking of bringing back the targa top for it's mid-engineed mass-market products.
The Ferrari targa top renderings appear to show a Ferrari F430 using the new removable hardtop. The outdated Ferrari design has undoubtedly been used as an example to hide the true application of the patent.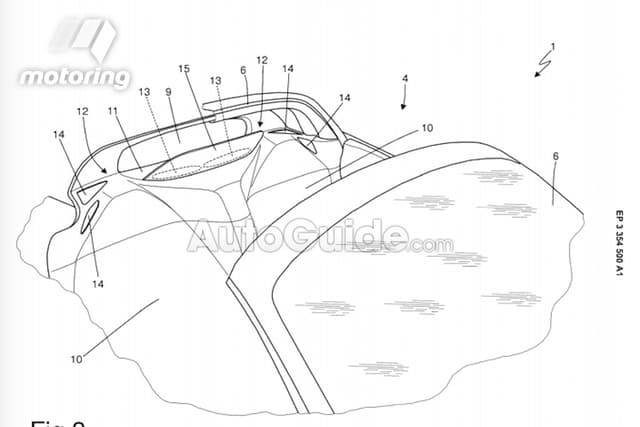 The filing refers to a car with a "coupe body with a rigid roof that is removable and is supported at the front by the upright of the windshield and at the rear by a robust full-width roll bar". It goes on to confirm that the Ferrari targa top is unique as it increases the height of the windshield so that it is higher than the rear anti-roll bar by approximately 3-5 cm, this allows the removal of aerodynamic turbulence.
It's not without it's downsides though. The filing reveals that "this solution involves a significant increase in the car's front section and therefore an increase in the aerodynamic resistance of the car (i.e. a deterioration in both speed performance and fuel consumption)." Ultimately, the filing proposes that vent channels and a protection panel are used to mitigate this, and that is what distinguishes the Ferrari Design.
Ferrari has used the targa top sparingly over the last 20 years. The last time we saw it was on the Ferrari 355 Targa, yet it has also been offered in the form of the 575 Superamerica (which had an electronically operated glass top), the Ferrari J50 and the LaFerrari Aperta.
While the design's might simply be protecting the intellectual property Ferrari employed to build the later two cars, it could also indicate that Ferrari is building up to a new Targa-style offering.
The granting of a patent can take a considerable amount of time which is why we can't rule out the fact that this application might have been filed some time ago. The information provided on the website shows that the patent was filed in January 2018