The hybrid revolution is happening, and car manufacturers are happy to implement the technology to achieve the most ludicrous results. Audi's ABT RS6-E is the latest electrified powerhouse to join the array. Whereas the 'standard' ABT RS6 is not short on power, it's voltaic sister has the best of both worlds: the range and brute power of a petrol engine, and instant torque from an electric motor.
The new prototype from the ABT dungeons produces an enormous 1,018 horsepower and 1,291 Nm of torque. To keep the weight down of the four door saloon, ABT have developed a clever system: underneath the hood sits a 730 HP petrol engine, and an electric motor capable of producing 288 HP and 317 Nm as of 100km/h. In simple terms, this implies that the car can get the power down at idle from its main engine, and will receive a temporary boost from the electric motors once the 100km/h is reached. Because the electric motor is only used to supplement the combustion engine at speed, ABT succeeded in fitting a compact 13.6 kWh to the drivetrain.
The caveat is apparent: the electric 'boost' can only be used for a duration of 10 seconds at a time, due to overheating issues. Think of it as the Nitrous boost we all know so well from the Fast & the Furious – it's similar. You press a small button on the steering wheel (appropriately called the "Magic Button" by ABT) and you enter a time warp that bears similar Hollywood resemblances: think of it as McFly's DeLorean speeding back to the future. So what does all this sci-fi reminiscent engineering provide you in the real world? For starters the 0-100 km/h sprint is accomplished in merely 3.3 seconds. The boosted 4.0-liter V8 keeps the fun going up to 320 km/h. Mind you this car is big enough for a family of four.
On the outside the Audi has received a fitting film wrap, and boasts 21-inch rims. Of course the comprehensive aerodynamics package offered by the tuner for the normal Audi RS6 is also in place: front lip, front skirt add-ons, mirror caps, fender inserts, side skirt add-ons and rear skirt add-ons including rear spoiler. H&R suspension springs ensure appropriate lowering of the chassis, allowing the driver to stay in control of the 1,018 HP at all times.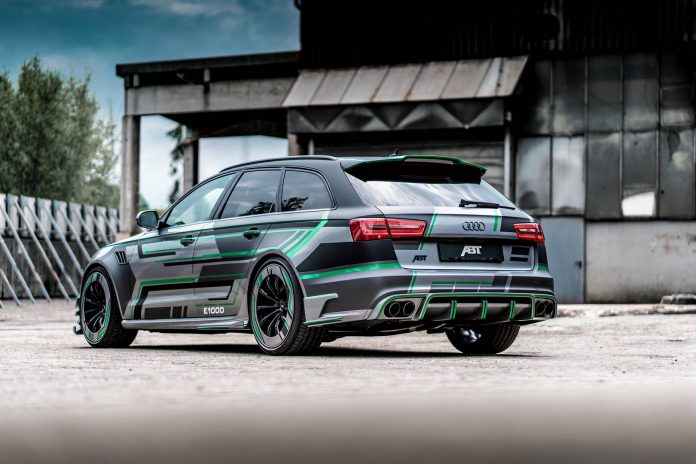 Did we whet your appetite for the RS6-E? Bad news: the car is merely a prototype and is anticipated to remain so. ABT wanted to test the waters with hybrid technology, with as result an impressive first result. Is it beginner's luck, or is ABT the next hybrid tuner?