The big reveal at the Geneva Motor Show 2018 for Lamborghini was the Huracan Performante Spyder. The latest drop-top performance supercar debuted alongside two Lamborghini Urus models (also a European premiere for the Italian brand). We took a closer look at the (potentially) record breaking two-seater.
Lamborghini Huracan Performante Spyder
Lamborghini at Geneva Motor Show 2018
Typically, the Huracan Performante Spyder is much the same as its Coupe counterpart. The only real difference is that it lacks a roof which has necessitated a recalibrated suspension system. The roof has the ability to open in 17 seconds at speeds of up to 50 km/h (30 mph) and rises out of a folding roof casing.
The visible carbon fiber running throughout the aluminium body of the Huracan help contribute to a weight loss of around 35 kg over the standard Spyder. Forged composite features in the front and rear spoiler, engine bonnet, rear bumper and aerodynamic diffuser. The system is entirely active, it's known as Aerodinamica Lamborghini Attiva – ALA.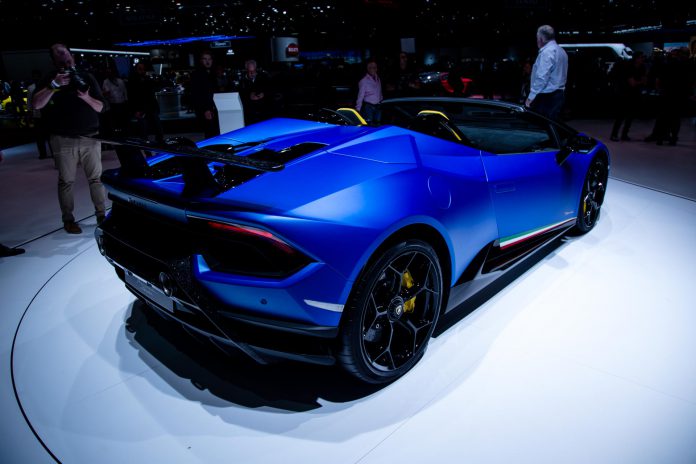 The Huracan Performante Spyder gets the usual 5.2 litre V10 naturally-aspirated engine. It uses permanent four-wheel drive and comes equipped with 640 hp and 600 Nm of torque. That's enough for the Performante Spyder to accelerate from 0-100 km/h (0-62 mph) in 3.1 seconds, 200 km/h (0-124 mph) in 9.3 seconds and a top speed of 325 km/h.
Lamborghini Terzo Millennio
Lamborghini Terzo Millennio
Photos by David Kaiser
For more detail on the Lamborghini Huracan Performante Spyder, take a look at our earlier article. Be sure to check out our dedicated news channel for more from the Geneva Motor Show 2018. We will be covering the show via social media too on Twitter, Instagram and Facebook!