ABT have unveiled their package for the new Audi RS3. The legendary German tuning firm present a set of modifications which fit both the Sportback and Sedan variances of the RS model. They include aerodynamic enhancements, power increases and other dynamic upgrades designed to make the RS3 much more involving to drive.
The ABT RS3 debuts at the Essen Motor Show 2017, one of Europe's leading tuning motor shows. The 2.5 litre inline 5-cylinder engine receives a boost in power from 400 hp up to an impressive 460 hp using Audi's method of choice, an adapted engine control unit. ABT allege that the modifications have no affect on wear or fuel consumption.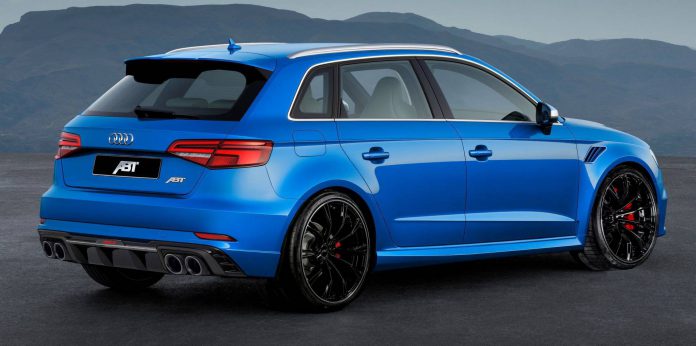 Suspension updates are also on offer, ABT Suspension Springs and ABT Anti-Roll Bars toughen up the Audi's handling to cater for the performance improvements. Height adjustment options are also in development. The ABT Brake Upgrade Kit, is hidden behind a choice of 19 and 20 inch rims in ABT DR, ER-C, ER-F or FR designs.
Inside, the ABT Audi Rs3 gets different finishing upgrades in carbon and integrated entrance lights. As you would expect, ABT branding, a gearshift lever badge, and a bespoke start/stop button are also available. At the back, ABT fit a glossy black rear skirt set consisting of rear muffler channel and ABT Rear Muffler with two 102 mm double pipes in matte black.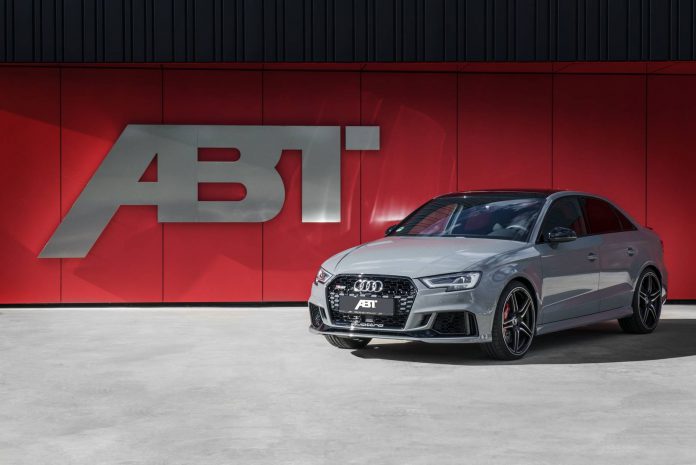 An ABT Power R package with further performance upgrades is also in the works.