The latest in a line of Gran Turismo models has been released at the Tokyo Motor Show 2017. The new virtual supercar has been designed by legendary Milanese coach builder Zagato. It pays tribute to the legendary Iso manufacturer, also originating from Milan.
Iso Automotoveicoli S.p.A. was run by Renzo Rivolta and his family during its most successful period as a performance car manufacturer, hence the amalgamation of the two names. IsoRivolta is the company which plans to revive the Iso name for the modern era.
The new Zagato-designed creation will be available in Gran Turismo Sport, the latest instalment of the popular Playstation game. The design work has created a streamlined and lightweight coupe, comfortable enough for everyday use. So much so that Zagato are said to be tooling up for a three to five unit limited edition run.
Zagato IsoRivolta Vision GT
Norihiko Harada, Vice-president Design at Zagato said: "The IsoRivolta Vision Gran Turismo was created to drive in the virtual-reality world, a world created by Gran Turismo. There is no mass in the virtual-reality world, as it remains a place that exists only in our imagination. Gran Turismo, however, has enabled us to physically experience the digital realm, processing a seemingly endless stream of data. Like a Mobius strip, the PlayStation game has allowed ourselves to be transported from reality and thrust into a world of pure fantasy, and then back again. The body style of the IsoRivolta Vision contradicts the sense of oneness that has evolved over the past hundred years of automotive design."
"Although the canopy and fenders seem to stand out on their own, in the end, the Zagato's overall design comes together in regard to both its proportions and general ambience. Our next wish is that this car, which was born in Gran Turismo, will take to the road in real life and one day grow larger in your rear view mirror, eventually passing you at high speed. When this happens, you will feel the limits of your imagination being severely tested, blurring reality."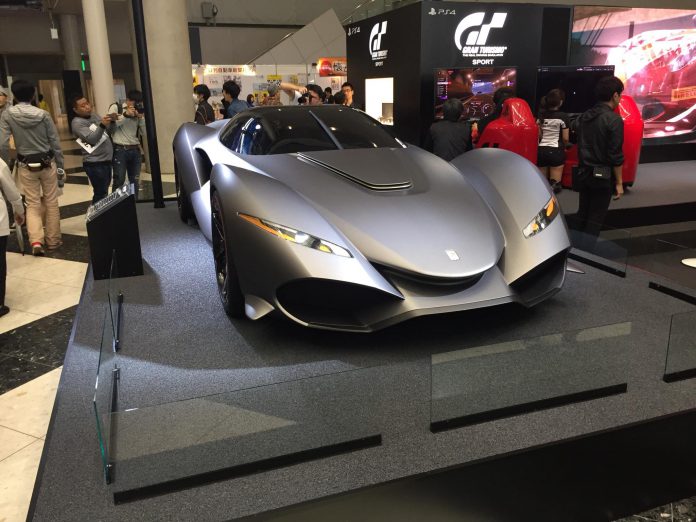 The Zagato IsoRivolta Vision Gran Turismo is power by a Callaway Corvette powertrain. The 6.2 litre V8 produces a power output of 997 hp which is fed to the rear wheels. The sheer power means a top speed of 365 km/h (227 mph) is possible with a 0 to 100 km/h time of just 2.7 seconds. It weighs just 1,129 kg (2489 lbs) and uses a ten speed sequential gearbox.