BMW has given us a glimpse into its potential Tesla Model X rival at the Frankfurt Motor Show 2017. The futuristic BMW i Vision Dynamics sits squarely between the i8 and i3 models BMW currently offers. BMW have promised that a production model is planned but for now, the car you see in the photos remains a concept.
BMW have committed to something they call the NUMBER ONE > NEXT strategy. This translates roughly into a commitment that by 2025 the Bavarian company will offer 25 models with electrified drive system, 12 in pure-electric.
The BMW i Vision Dynamics follows a year on from BMW's NEXT 100 vision vehicle, edging closer to production. The four door Fran Coupe is fitted with the latest in BMW electric powertains. It features a range of 600 km (373 miles), a top speed of over 200 km/h (120 mph) and acceleration of 0-100 km/h (62 mph) in four seconds.
The silhouette of the BMW i Vision Dynamics is an evolution of the classic BMW proportions. It features a long wheelbase, flowing roofline and short overhangs. The shape is sculpted by aerodynamics with barely visible joins and flush glass applications to the main body.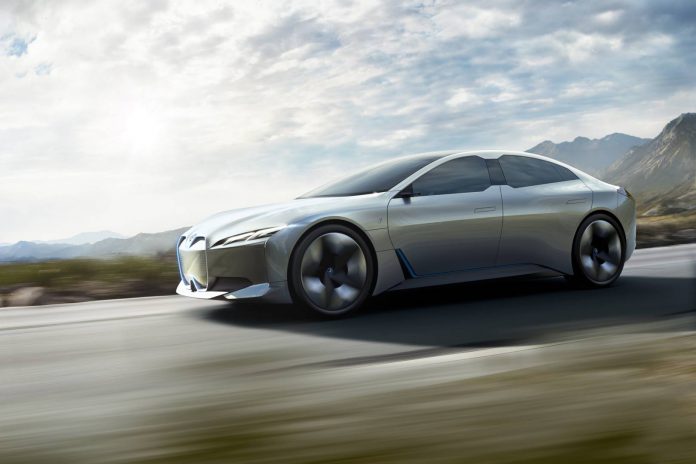 BMW have paid close attention to the window profile of the BMW i Vision Dynamics. The windows are virtually symmetrical which allows all passengers to enjoy an equally impressive view out which BMW say is a nod to the future, in as far as (semi-) autonomous and connected driving is concerned.
Other classic BMW design features include enclosed "kidneys" in the minimalist front end. They hide sensors which turn the kidneys into an "intelligence surface". There is a lot of showboating with the BMW i Vision Dynamics, however, it looks very promising for that all-important electronic saloon!