Not too long ago convertibles were always inferior to their hardtop counter parts. Heavier, slower and above all handling that would feel as if you are trying to squeeze a pack of butter around a corner. Mainly thanks to one particular innovation, that is no longer the case.
There is one company that has adapted this innovation to their hallmark like no other. I'm talking about the carbon fibre tub McLaren has used ever since they returned to the car market in 2011 with the MP4-12C. This especially rigid and light carbon fibre base which every McLaren uses allows them to chop off the roof with virtually no reduction in performance.
Talking about performance; the 3.8 litre twin-turbocharged V8 produces 570hp and 600Nm of torque. The 0-100 km/h sprint is done in 3.2 seconds, the 0-200 km/h sprint is done in 9.6 seconds – just 0.1 seconds slower than the hard top. And the top speed is limited to 328 km/h with the roof up and 316 km/h with the top down.
McLaren 570S Spider Review
The hard top can be dropped at the tip of a button in 15 seconds up to 40 km/h. When the roof is up the roof compartment doubles as an additional storage bay. The best feature of all is the small rear window that also functions as a wind deflector with the roof down. Wind it down with the roof up and it provides direct access to the wonderful sound of the V8 with zero wind noise. Personally just this is worth the premium over the hard top 570S.
With the roof up you have to look twice to realize it is a 570S Spider. The design is very clean and I personally like it a lot more than that of the 650S and even the 720S. The front and rear are in harmony and aero features like the larger rear spoiler are integrated in a very subtle way. One of McLaren's signature design elements: the butterfly doors can also be found on the 570S Spider and guarantee a dramatic appearance wherever you go. Three new colours are available bringing the total to 20 standard colours to chose from.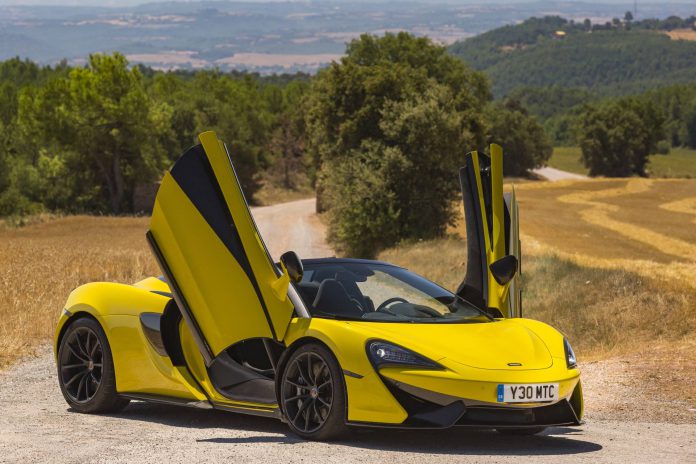 Inside the McLaren 570S Spider is very similar to the normal 570S. A tablet like screen provides access to all the infotainment options. It's might not contain as many features as some of it's German rivals but provides a very clean look and easy to understand menus. And certainly less buttons and clutter than any Porsche on the market today. McLaren spent a lot of timing increasing refinement over the 650S Spider which resulted among other things in a wind noise reduction of 20%.
My test car comes with jet black nappa leather seats, partly perforated and finished with stitching matching the exterior color. Some of the stitching on the top of the dashboard reflects in the windscreen while driving so be aware of that when speccing your 570S Spider. Another note of warning are the seats, there are different seats available also through MSO and make sure you get those tailored to your size. The ones in my test car were clearly to small for me resulting in some uncomfortable backache after a few hours of driving.
So what is it like to drive than? Similar to other McLaren's the 570S Spider comes with three drive modes – Comfort, Sport and Track. Each modes has defining characteristics that we already covered in depth in our other McLaren reviews but I will discuss a few things that stand out.
First of all the steering, a lot of manufacturers have chosen to go from hydraulic to electronic steering over the years. McLaren however stayed with hydraulic and it is providing great levels of precision and feedback. In comfort mode a bit too much feedback for my liking but in sport and track it sets itself far apart from cars like the Audi R8 Spyder with their over-engineered and artificial steer feel.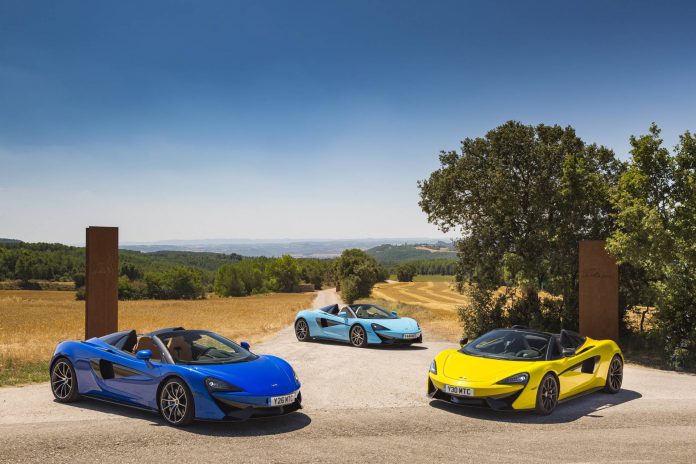 From standstill the 570S Spider rockets forwards without any shortness of breath. The sheer ease with which the 570S runs from corner to corner up in the Spanish countryside doesn't stop to amaze me. The accompanying V8 sound is loud but not as dramatic as in the 720S so less pops and crackles on lift and down-shifts.
As standard the 570S Spider comes with carbon ceramic brakes and although they offer excellent stopping power the brake feel is a bit numb – as if you stamp on a potato. As reference I recently drove the AMG GT C convertible with AMG's latest ceramics which provide both the stopping power as well as the steel brake-like brake feel so there is a bit of room for improvement here.
What to spec?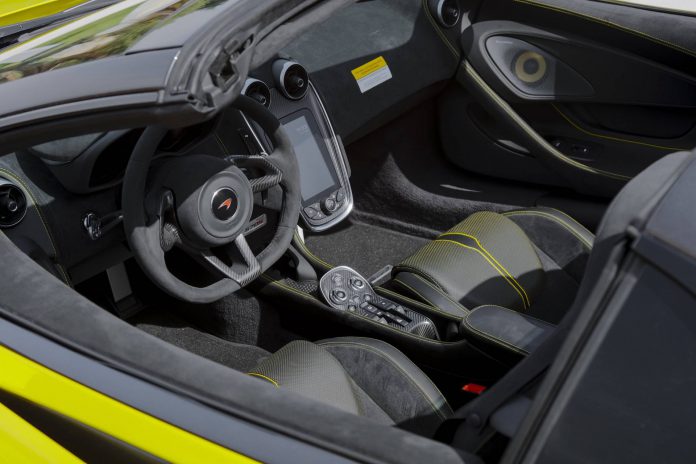 The McLaren 570S Spider comes quite well equipped as standard but there might still be a few things to consider as optional extras. McLaren conveniently put most options together in packs and here are two things you might consider.
⁃ Security Pack: includes nose lift, parking sensors, rear view camera and an upgrade to the alarm.
⁃ Luxury Pack: offers soft close doors, a high-end B&W audio system, heated and memory adjusted seats.
Conclusion
The McLaren 570S Spider is a no compromise convertible with a very sexy look and great performance. I would definitely have the Spider over the Coupe despite the premium. It is not flawless as the seat comfort, brake feel and sound could be a bit further improved but overall it is a very appealing sports convertible.
The McLaren 570S Spider is on sale now. The first 400 are build as special 'launch editions' and are already sold out.