The 2018 McLaren 570S Spider has been officially unveiled ahead of its public debut on 29th June at the Goodwood Festival of Speed. The third body style in the McLaren Sports Series joins the Coupe and GT models, using a retractable hardtop with technology derived from the 650S and 675LT Spider models. Given the success of the 570S model, we anticipate McLaren have another success story in the midst!
Overall, just 46 kg is added to the total weight of the 570S Coupe, with structural rigidity unchanged. The folding hardtop takes just 15 seconds to open or close and can be operated at vehicle speeds of up to 40km/h (25mph). An electronically operated rear window or wind deflector is also included. The Spider gets a 12 mm higher rear spoiler to compensate for a change in dynamics.
As we already know, the 570S series features a predominantly carbon fibre construction. A carbon fibre MonoCell II chassis combines with a mid-engined drivetrain layout and stylistic McLaren dihedral doors. Under the rear hatch sits the 3.8-litre twin-turbocharged McLaren V8 pushing 570 PS and 600 Nm. Somehow, performance figures are identical to the Coupe with acceleration from 0-100 km/h (0-62 mph) in 3.2 seconds and a 328 km/h (204 mph) top speed. With the roof down, top speed is restricted to 315 km/h (196 mph).
An optional sports system will be available for the McLaren 570S Spider which features an ESG to channel exhaust sound towards the cabin via the area beneath the tonneau cover. As you would expect, everything else is much the same as the Coupe with double-wishbone suspension, steel springs, adaptive dampers and active dynamics.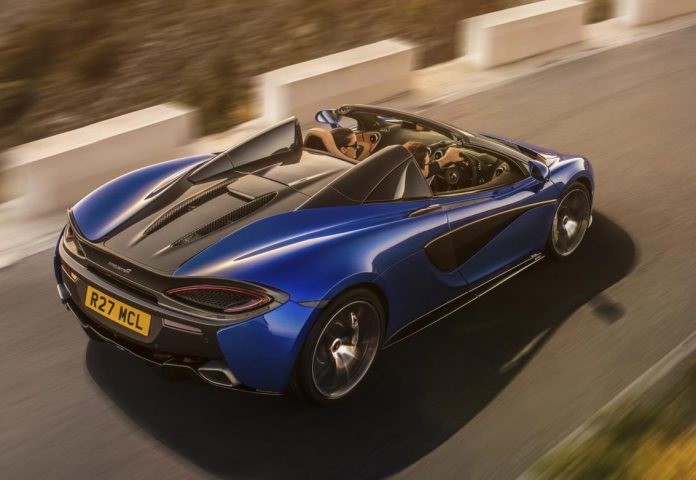 This marketing car is finished wish a Dark Palladium grey spoiler (a visible carbon fibre finish is available at additional cost via McLaren Special Operations) which can also be applied to the roof, windscreen pillars and rear buttresses. Exterior colours have been extended to include Curacao Blue, Vega Blue and Sicilian Yellow as part of a 20-colour range. A new 10-spoke wheel is unique to the 570S Spider.
The first 400 Spiders built will be launch edition models, priced from £164,750 in the UK. Deliveries are to begin in August!