Henrik Fisker's Tesla rival has been officially unveiled in the form of the Fisker EMotion. The four door sedan sets its sights firmly in the direction of the yet-to-be-released Tesla Model 3 and Model S. With a 400 mile range and a 9 minute charge time, the EMotion looks appealing on paper. It is a spiritual successor to the Fisker Karma which is no produced by Karma Automotive as the Karma Revero plug-in hybrid car.
The Fisker EMotion is said to have a 400 mile (640 km) range, achievable on a single charge together with a top speed of 161 mph (259 km/h). It was slated to be powered by Graphene and solid-state battery technology developed by Fisker Nanotech (a joint venture between Fisker Inc. and Nanotech Energy Inc.). Instead, we understand that it will now use more conventional lithium-ion NMC battery supplied by the "world's leading battery Co." which probably implies Korean manufacturer LG Chem who supply General Motors, Ford, Volvo, Hyundai and Renault.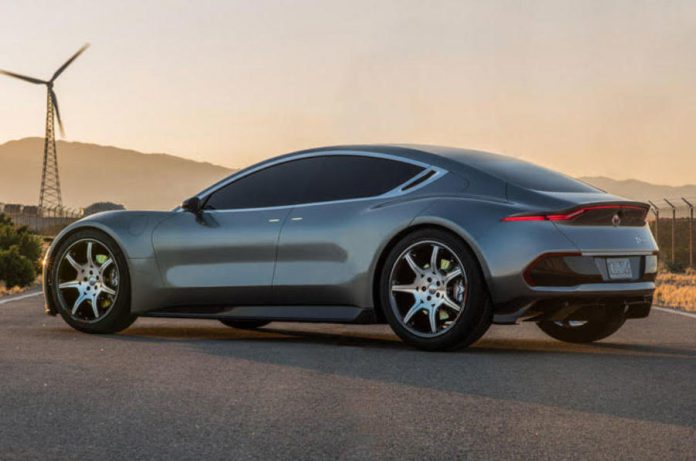 That claim to a 9 minute charge time refers to a fully depleted to 100 miles range charge. Underpinning the technology is a new carbon fibre and aluminium structure which emphasises weight reduction and safety whilst on the inside, Fisker promises a spacious and luxurious interior. The wheels are said to be in development with Dymag, with a carbon fibre and aluminium construction, Fisker expect 40% loss rotational mass. A LIDAR system is housed at the front behind a tinted screen with side mirror cameras offering a 360-degree views to the driver.
Prices for the Fisker EMotion are set to start at $129,900 with a delivery timeline announced midway through next year and pre-orders set to commence on 30 June 2017. Fisker will adopt the Tesla approach to sales with vehicles sold directly through the company's website and in 'experience centres'.
At the moment, the photos reveal a CGI design. Fisker are promising a prototype release very soon, however, it is not clear whether the technology will be fitted to the vehicle at this very early stage. Stay tuned for more in the coming months!