Mercedes-AMG recently unveiled the most powerful version of their GLC Coupe SUV: the GLC 63. But before this monster hits the dealerships in a couple of months we figured we take a closer look at that other AMG version of this popular SUV: the GLC 43 AMG!
The GLC 43 Coupe is equipped with a 3.0 liter V6 bi-turbo engine that produces 367hp and 520Nm of torque. With the AMG tweaked all-wheel drive system and 9G-tronic gearbox the GLC 43 accelerates from 0-100 km/h in 4.9 seconds and tops out at an electronically limited 250 km/h. The power distribution is split 31% front and 69% rear.
2017 Mercedes-AMG GLC 43 Coupe
To improve the handling of this performance SUV AMG developed a new front axle and sport steering. The AMG sport suspension is based on the Mercedes-Benz air body control air suspension and setup to please those that fancy a sportier ride. Our particular test car is finished in a stunning dark blue with large black wheels that give the car a very cool appearance – I like the looks of it a lot!
Before I bore you to death with all the technical details I will skip right ahead to our driving impression. We drove the AMG GLC 43 Coupe over a varied set of roads including German and Austrian highways and high quality and very poor quality b-roads – not unessential for this review.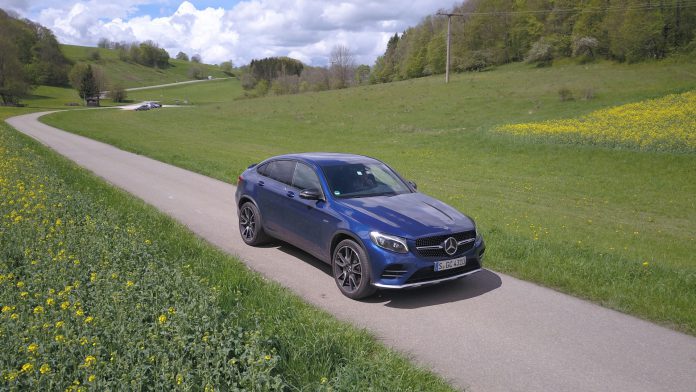 As with most other modern Mercedes-Benz and AMG cars the GLC 43 Coupe offers a range of driving modes you can change at the tip of a button: Eco, Comfort, Sport, Sport Plus and Individual. Each mode changes a range of parameters from throttle responds and ride to sound. In Eco and Comfort the ride is smooth and suitable for long journeys. In Sport and Sport Plus it unlocks the dynamic capabilities of the GLC 43.
This was the first time I could experience the new 9G gearbox in an endurance test and although it shifts blistering fast it has some undesirable behaviour on the highway. When cruising along at 130 km/h on the highway through hilly or mountainous terrain the slightest change of throttle results in a few gear changes accompanying sound penetrating the cabin. It would be nice if the GLC 43 would hold on to gears a bit longer to provide a more comfortable ride.
Mercedes-AMG GLC 43 Coupe
Leave the highway behind though and it becomes clear that this is a true AMG. Thanks to the 31:69 rear focus there is no understeer and if you wouldn't know any better you would think you are driving a sportscar and not a 1,700kg+ SUV. Switch to Sport or Sport Plus and the GLC 43 will provide a very addictive sound track. Not quite as ferocious as a V8 powered 63 model but still very very enjoyable.
When the road surface changed from smooth to rough the GLC Coupe didn't have to hold back much. The individual air suspension filtered out the bumps nicely and I dare to say on rough twisty roads it is quicker than most sportscars.
Taking a look around the interior it is a pleasant and premium place to be with a mix of leather with red stitching, carbon fibre and brushed aluminium surrounding the driver and passenger. The electrically adjustable seats provide enough side support.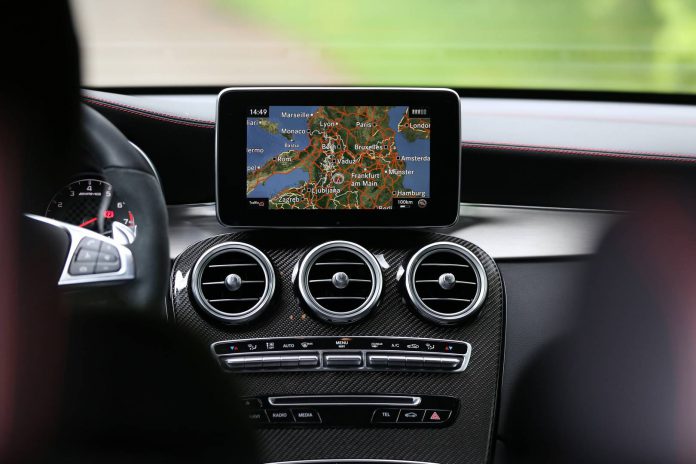 Overall the GLC 43 Coupe provides the fun and ride of a sports coupe with some of the practicality and looks of an SUV. It looks and handles a lot better than most other sporty SUVs like the Audi SQ5. At the same time the practicality is a bit limited due to the dropping roof line both in terms of rear passenger space as well as driver visibility.
Normally fuel consumption is not something we rate our cars by since most of the GTspirit cars are rather thirsty. But the 3.0 liter V6 in the GLC 43 Coupe is quite a thirsty machine, especially when cruising around town on a daily basis it was hard to average below 14 liter / 100 kilometers.
What to Spec?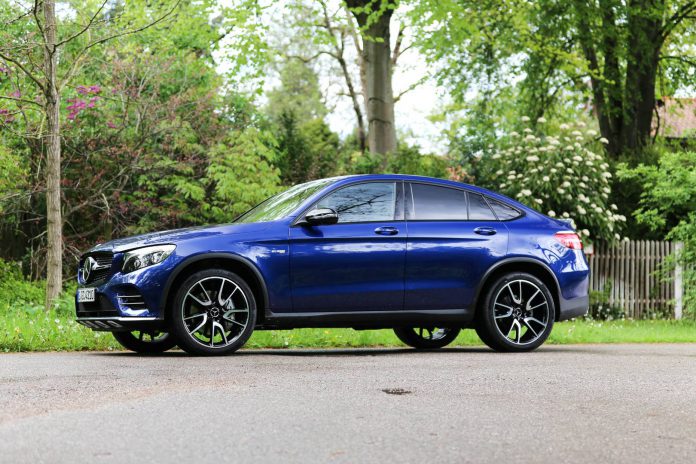 To make picking the best options for your Mercedes-AMG GLC 43 Coupe a bit easier I had a look through the options list and present some of my favorites:
Comand Online – The connected infotainment system is a must for every GLC owner.
Head-up Display – Projects vital information directly on the windscreen so you don't have to take your eyes off the road to see your speed, the speed limit and vital navigation info.
Driver Assistance Package Plus – Includes adaptive cruise control and lane assist which makes driving long journeys and traffic jams a lot more comfortable, and safer.
Thermotronic – Adaptive climate control
LED Intelligent Light System / Adaptive High Beam Assistant – Automatically adapts the high beam at night to provide the best possible visibility also in corners.
Burmester Sound System – A must for fans of high-end audio!
Parking Package with 360 Degree Camera – Due to the poor all around visibility this is very helpful to gain some overview when parking and manoeuvring in tight spaces.
Conclusion
The Mercedes-AMG GLC 43 Coupe is a very good looking sporty cross over between a SUV and a Coupe. It handles way better than you would expect and it clearly has a lot of AMG DNA. The V6 provides a solid sound track and a lot of fun on some of the empty mountain roads we drove. On the downside it is a bit thirsty and the coupe design provides some drawbacks in terms of visibility and available space.