In recent year's the RM Sotheby's Villa Erba event has grown to complement the ultra-exclusive Villa d'Este event just up the road. This year's auction is bigger and better than ever before. We were fortunate enough to get a sneak preview of some of the lots this morning at the public open event.
The Holy Trinity were the obvious highlight from a supercar perspective. A McLaren P1 GTR, converted for the road, is on offer with a guide price of between €3.200.000 – €3.600.000. It has been road registered with UK number plates. It stands alongside a Porsche 918 'Weissach' Spyder estimated between €1.200.000 – €1.400.000 and a LaFerrari with a value of €2.750.000 – €3.200.000.
All three cars were attracting massive amounts of attention. The Ferrari is an Italian delivered car with just 200 miles on the clock. Next door is a Ferrari Enzo finished in Rosso Scuderia, with a special matching Rosso Scuderia trim on the side, front, and rear diffuser trim rather than the usual black.
RM Sotheby's Auction at Villa Erba
Elsewhere, where we saw the one of 51 Porsche 911 Carrera RSR 3.8. It has 10 miles on the clock and has been completely unused since purchase. RM Sotheby's believe it will go for €2.000.000 – €2.200.000. Also on display was the 1935 Bugatti Type 57 Atalante Prototype by Carrosserie Bugatti estimated at €2.800.000 – €3.200.000. We love the Atalante variants of the Bugatti, this one is sure to do well.
Noticeable absences from the preview day include the headline lot, a concours winning Mercedes-Benz 680 S Torpedo-Sport Avant-Garde by Saoutchik valued at €6.500.000 – €8.000.000, a Talbot-Lago T150-C SS 'Goutte d'Eau' Coupé by Figoni et Falaschi valued at
€3.200.000 – €3.800.000 and a Ferrari F12 tdf expected to acheive €750.000 – €800.000.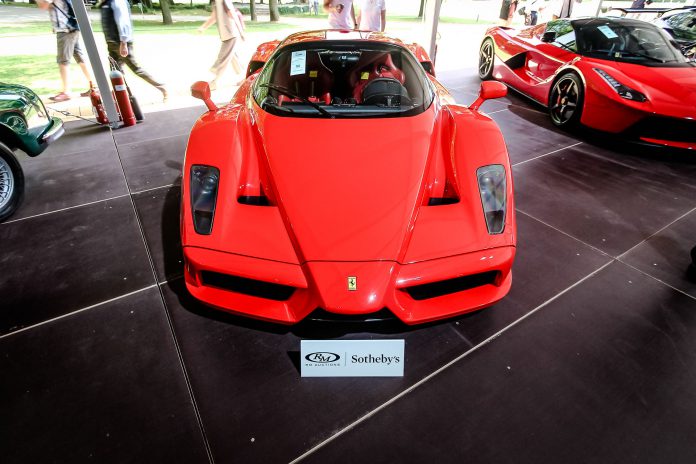 We will keep you updated on the results after the main event on Saturday evening!