Launched to expressions of delight at the Concorso d'Eleganza on Lago di Como today, the BMW Concept 8-series is the thinly disguised 8-series, which will go into production next autumn and replace the 6-series.
Unlike the first 8-series, which was based on the 7-series and produced in disappointingly low numbers from 1989 to 1999, the next 8-series will be based on the 5-series. And that means it'll shed as much as 100 kilograms when compared to the current 6-series. And there's no way BMW will shove a V-12 under its low, aggressive hood.
Instead, we expect to see a 3.0-liter straight-six 840i with 340 horsepower, a 4.4-liter V8-powered 850i with 462 horsepower, and a one or two powerful diesels. Moreover, there are inevitable rumors of an M8 – a car that would get a strongly tweaked version of the 4.4-liter V-8 and produce north of 600 horsepower. To absolutely no one's disappointment, BMW decided against a hybrid.
There will be rear- and all-wheel drive on the six, while the V8-powered versions are all-wheel drive only. Electric rear-wheel steering will be optional, and we hope that the 21-inch wheels on Michelin Pilot Super Sport rubber will make it into production.
The body and chassis use a mix of steel, aluminum and magnesium. On the regular 8-series, we don't expect to see a lot of carbon fiber – except for decorative purposes, but the M8 is a different story.
The leather-clad interior is snug and somewhat futuristic, with many functions bundled in the driver's door and the center stack. Cute: The iDrive controller is made from Swarovski glass.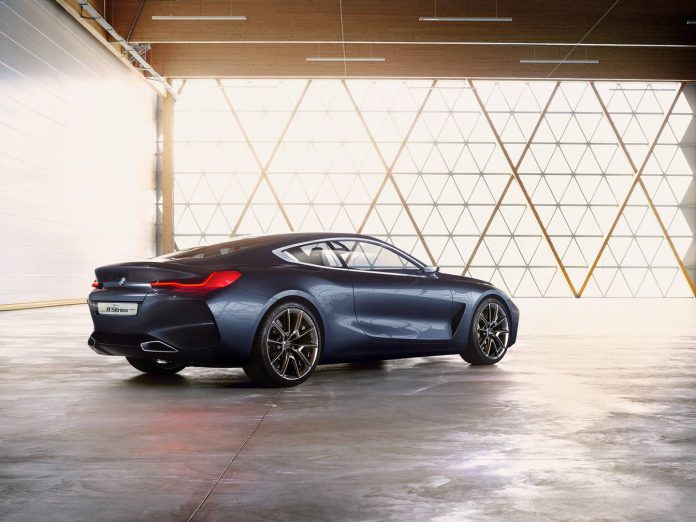 We like the styling of the 8-series, and we think that it signifies a massive leap forward for BMW Design – together with the compact X2 crossover. Besides the coupe, there will be another Cabriolet and a four-door Gran Coupe. The 8-series is bound to do well – if BMW continues to price it like a 6-series.