You may have seen that one meme appear in your Facebook timeline once where a Sheikh paid for 80 seats on a passenger plane to bring along his collection of falcons. Yes, falconry is a big hobby for the rich and wealthy in the Middle East.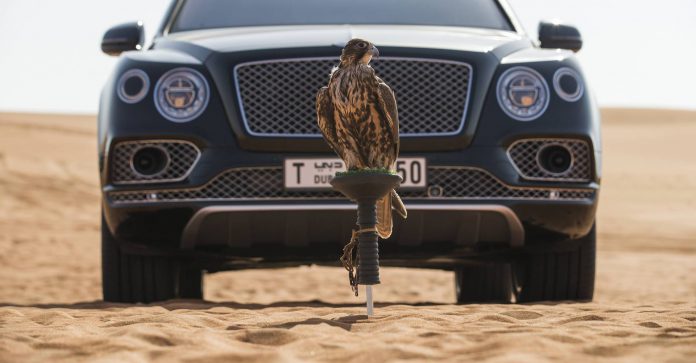 Bentley saw an opportunity and had its in-house bespoke division Mulliner create the Bentley Bentayga Falconry. Mulliner fitted the world's fastest and most luxurious production SUV with the 'ultimate' in-car falconry kit. The 'conventional' picnic and champagne kit has been replaced by a handcrafted set of natural-cork-fabric-trimmed cases.
One of the cases is the master flight station, while the other one is a cooler for refreshments. Inside the master flight unit is a special Piano Black veneered drawer – with a saker falcon crest – containing bespoke storage for all the equipment required for this unique sport.
Further unique options are a GPS bird tracking unit, binoculars and hand-crafted leather bird hoods and gauntlets. The Bentley Bentayga Falconry by Mulliner is yet another example of the luxury brand's bespoke craftsmanship. Especially the one-off desert scene marquetry in the dashboard is impressive, it consists of no less than 430 individual pieces of wood.
Geoff Dowding, Director of Mulliner, said: "The Bentayga Falconry showcases what's possible with our skilled craftspeople. They can devise elegant and exquisitely executed bespoke solutions to compliment any lifestyle or hobby. Falconry is regarded as the sport of kings in the Middle East, so it was vital that the kit we created was as luxurious as it was practical and durable to appeal to our valued customers there and around the world."
No kidding, Bentley's Mulliner division have really outdone themselves this time! Check out the gallery below to see all the amazing details.
Bentley Bentayga Falconry by Mulliner