Lamborghini is enjoying a thrilling season at the Blancpain GT Series this year, the GRT Grasser Racing Team won today's 3 hours of Silverstone which marked round 2 of the Blancpain GT Series Endurance Cup. The #63 Lamborghini Huracan GT3 of Andrea Caldarelli, Christian Engelhart and Mirko Bortolotti crossed the finish line first to win the race by a mere 0.3s.
The #63 team have been on a winning streak since Monza where they first scored a win during round one of the Endurance Cup. Last week at Brands Hatch they repeated the same fate by winning round 2 of the Sprint Cup, today's win now puts them clear ahead in the Blancpain GT Series drivers and teams standings.
The #84 Mercedes-AMG GT3 of HTP Motorsport proved to be the most formidable rivals and fought side by side throughout the three hours before finishing second…just 0.3s behind race winners. The car was piloted by Jimmy Eriksson, Maximilian Buhk and Franck Perera. Third spot went to the #90 AKKA ASP Mercedes-AMG GT3 of Michael Meadows, Edoardo Mortara and Raffaele Marciello.
Blancpain GT Series - Silverstone 2017
AKKA ASP started from pole in the #88 Mercedes-AMG GT3 but a false start resulted to a 1 minute stop and go penalty for the team. This allowed Bortolotti in the #63 Huracan GT3 to claim the lead after restart. A safety car intervention followed when the #44 Strakka Racing McLaren 650S GT3 crashed at turn 3, Here, the #90 Mercedes took an early stop and managed to slip into the lead.
GRT mechanics were quick enough with the stops which ultimately allowed Engelhart to get back in the lead. Eriksson in the #84 Mercedes had also managed to pass the #90 AKKA ASP AMG GT3, before staging an epic battle to the flags with the #63 Huracan GT3.
The best Ferrari today was placed fourth, the #72 Ferrari 488 GT3 from SMP Racing which finished ahead of the #8 Bentley Team M-Sport Continental GT3.
The Pro-Am Cup honors went to the team of Martin Kodric, Adrian Amstutz and Patrick Kujala in the #77 Barwell Motorsport Huracan GT3. Ahmad Al Harthy and Jonny Adam finished second in their #97 Aston Martin V12 Vantage GT3. Third in this class went to the #87 AKKA ASP Mercedes-AMG GT3.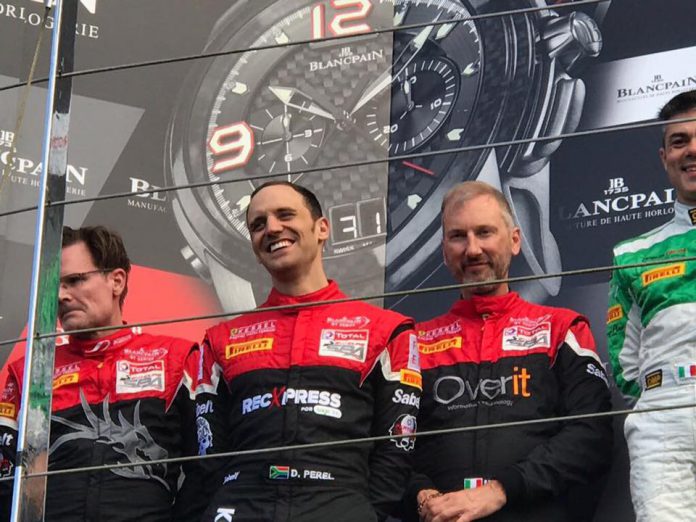 The #488 Rinaldi Racing Ferrari 488 GT3 won the AM Cup with Pierre Ehret and Rino Mastronardi behind the wheel. Kessel Racing grabbed P2 with David Perel, Marco Zanuttini, and Jacques Duyver. Third place in AM Cup went to the #36 Walkenhorst Motorsport BMW M6 GT3.
Next up is the Sprint Cup round of Belgium in Zolder on June 2.