Meet the Hennessey Camaro ZL1 "The Exorcist", a monstrous 1000 brake horsepower interpretation of Chevy's top selling sports car. The Exorcist conversion will be available for both the coupé and convertible.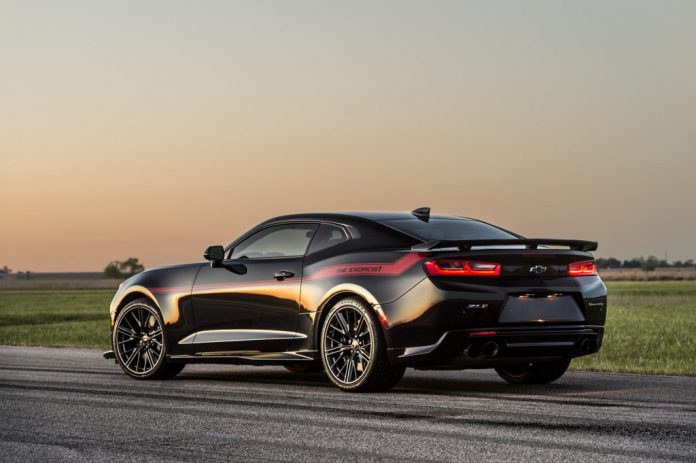 The American tuner further added that they will produce a maximum of a hundred conversions, making the Exorcist even more exclusive. Most work is put in giving the ZL1's V8 a serious upgrade. A custom high-flow supercharger system, custom Hennessey camshafts and ported cylinder heads go a long way in raising the Camaro's output to 1000 bhp at 6,400 rpm.
Additionally both the intake valves and exhaust valves are upgraded along with fitting high flow catalytic converters and stainless steel midpipes. Furthermore a high flow intercooler system is installed and the intercooler heat exchanger gets an upgrade.
Remaining on the manifest are upgraded valve springs and retainers for better on-road control as well as upgraded lifters and pushrods. A big chunk of the magic happens by tweaking with the software. Hennessey Performance engine management calibration boosts the engine's output significantly.
Additional personalization comes in the form of serial-numbered dash and engine plaques, Hennessey badging and premium floormats. The tuner also offers 20-inch rear-wheel drag radial tires, a Hennessey H10 Monoblock wheel upgrade, automatic transmission upgrade and a track tool kit as options. The conversion comes with a 2-year (24,000 miles) limited warranty.
Exorcist Hennessey Camaro ZL1