Look at this gorgeous custom Porsche 911 RS 3.5 Red Evolution by DP Motorsport. It only weighs 940 kilograms and is one of the most tasteful interpretations of the 1974 911 RS we have seen.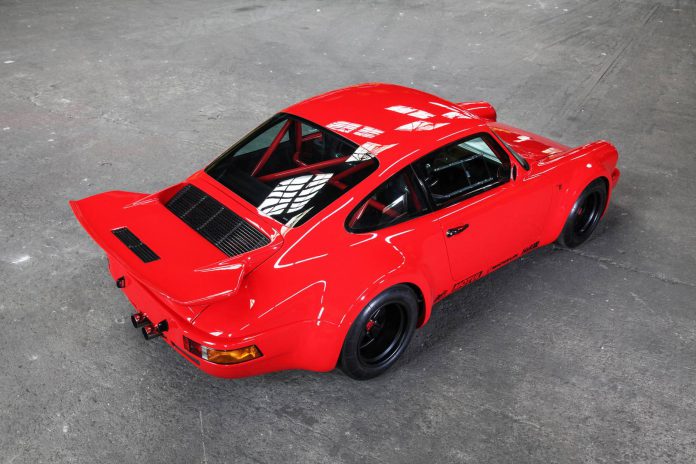 This legendary Porsche was customized by the Porsche specialized company DP motorsport. Established in 1973, its founder Ekkehard Zimmermann gained a lot of experience customizing Porsches over the past 43 years, and it shows.
The wheel housings, side sills as well as the front- and rear bumper were remodeled and improved at the body of a so-called 'dp11 Red Evolution' coated in Porsche guards red (80K). The windows of the lightweight doors were fitted with hardened plexiglass and the car's water drains were removed. Largely responsible for the car's 940 kg weight is the fact that all body parts are made of carbon or glass fiber reinforced plastic (GFRP).
To improve the drivability of the 911 RS even further it was fitted with an H&R suspension coil over system and adjustable RSR-type DP-stabilizers. The front axle head bearings as well as the turbo rear axle guides are Unibal-mounted and the front axle PU guide sockets are supplied by Superpro. The black Fuchs rims in the dimensions 9 x 15 are shod with Michelin semi slicks.
Exciting stuff under the classic's hood: DP Motorsport equipped the 3,500 cm³ engine with a mechanical fuel injection system and individual throttle valves, as well as a dual ignition system and 911-RSR camshafts. The resulting output is impressive: 365 horsepower (268 kW) is a significant increase over the standard 210 hp (150 kW).
DP Motorsport Porsche 911 RS 3.5 Red Evolution
The classic's mechanical fuel injection pump was properly coordinated on a dynamometer by Edelweiß Motorsport. The upgraded engine is linked to a transmission type 915, and a limited slip differential helps keep the extra performance in check.
The Porsche's interior is just as much a piece of art. The classic 'Lollipop' race seats in 935 style are a good fit and extremely light weight. The driver looks at a 350 mm Momo steering wheel and a carbon fiber styled dashboard and knee rails. Light weight 964 RS styled velour carpets further polish up the classic interior.
Matching the bright red exterior paint is the red coated welded roll cage and 4-point professional harness by Schroth. Further weight was saved by a light motorsport battery and a custom-made racing cable bundle and a carbon clubsport tank with 80 liters capacity. The 940 kg weight is without the fuel of course, but still, wow!