One of the three major concept cars at Auto Shanghai 2017 is the Volkswagen I.D. CROZZ Concept. The all-electric crossover concept car is the third in Volkswagen's zero emission I.D. line.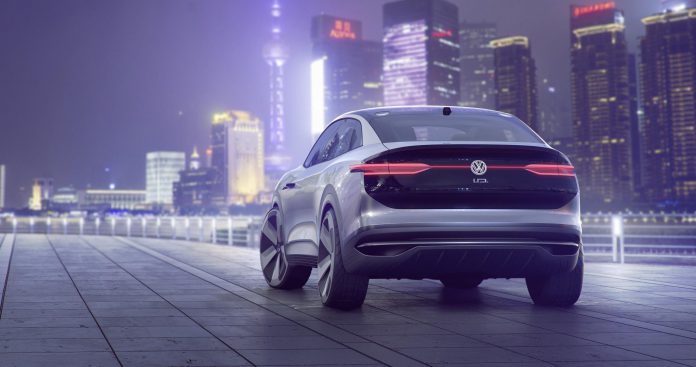 The I.D. CROZZ follows the Volkswagen I.D. Concept revealed in Paris last year and the I.D. BUZZ, which was revealed in Detroit earlier this year. The new electric concept car is expected to play a major role in Volkswagen's goal of boosting annual sales of electric vehicles to one million units by 2025.
The I.D. CROZZ is powered by a capable battery with an output of 225 kW, good for a top speed of 180 km/h and a driving range of 500 kilometers (NEDC). Using a fast-charging system, 80 percent of the crossover's battery can be charged in just 30 minutes time.
The all-wheel drive I.D. CROZZ is fully equipped with the latest semi-autonomous driving systems including the 'fully autonomous' I.D. pilot, which is engaged by holding the VW logo on the steering wheel for 3 seconds. The rest of the car's instruments and controls are all digitally integrated, a smartphone on wheels if you will. Volkswagen takes it a step further by projecting the most important driving information into the driver's visual field drawing on augmented reality technology.
Volkswagen I.D. CROZZ Concept
In terms of design the electric crossover looks just as futuristic as its functions illustrate. It comes with a very dominant light signature for Volkswagen electric mobility at the front and rear. The C-shaped LED lights and variably controllable LED headlights together portray electronic moving eyes. When 'I.D. Pilot' is engaged, these 'eyes' communicate with other road users.
The car's interior is relatively spacious and very clean thanks to the massive digitalization of functions. The underpinning setup and platform couldn't be anymore different than that of Volkswagen's conventional ICE vehicles. Compared to the Tiguan for example, the architecture of the I.D. CROZZ directs the suspension and drivetrain modules to the far outsides of the vehicle. This leaves plenty of space to fully integrate the car's battery into the vehicle's floor, which also has the added benefit of a low center of gravity and improved handling.
A production variant based on this concept I.D. CROZZ is set for production in 2020.