A new special edition Lotus has been unveiled; the Lotus Ever Sport 410 GP Edition. It is based upon the Sport 410 model which benefits from reduced weight and improved aerodynamic performance, it is the fastest and most focused Lotus Evora yet. What's more, this Evora will be available exclusively in the US and Canada, starting this summer!
The Evora Sport 410 GP Edition has been developed by Lotus Exclusive. It uses Team Lotus' iconic F1 colour scheme raced between 1972 and 1986. It is designed to give some idea what the Lotus Exclusive program can do. The Lotus press release states that 25% of all new cars have been ordered with some form of personalisation through the program.
The Lotus Evora Sport 410 is now fully type approved for the US. Just 150 Sport 410 models will be produced with 5 GP Editions set for the US. Each example weighs 60 kg less than the Evora 400. In total, the Evora Sport 410 weighs 1,370 kg with fuel.
LOTUS EVORA SPORT 410 GP EDITION
Standard carbon-fibre components include the front splitter, revised front access panel, roof section, tailgate, rear quarter panels, and a rear diffuser. The carbon saves 14.3 kg. Further weight reductions include a lithium-ion battery (-10.8 kg), ultra-lightweight forged wheels (-7.2 kg) and new lightweight windscreen surrounds (-3.4 kg).
In addition, the 410 gets a recalibrate suspension and chassis setup, improved wheel geometry and re-valved dampers. Ride height is further reduced by 5 mm.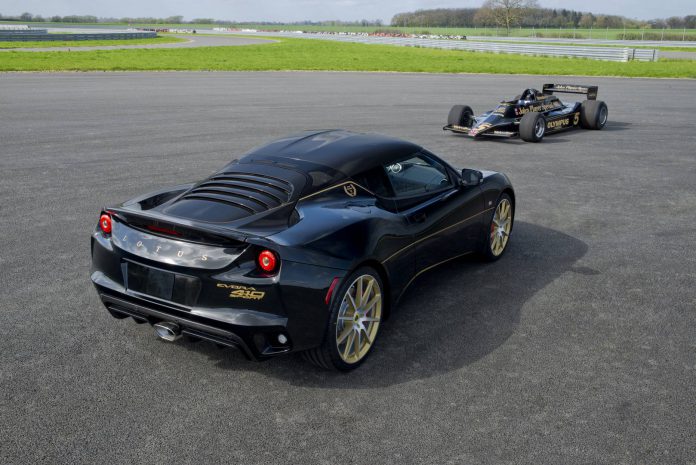 In terms of performance, the Sport 410 GP Edition manages 0-60 mph in 3.9 secs and a top speed of 190 mph. It uses a 3.5 litre 6-cylinder engine with 400 hp and 410 Nm of torque. Power is routed through a six-speed manual gearbox and a torsen limited slip differential.
Jean-Marc Gales, CEO, Group Lotus plc said, "Last year we embarrassed rivals with a car that cost less but out-classed their best. This year the same rivals are in for a surprise. Less mass, reduced drag and greater downforce means the Evora Sport 410 is not only faster on the straight, but also when cornering. It is without equal, being both refined and intuitive, and again shows that we are making our best ever cars. The reaction to the Evora Sport 410 since its debut in Europe and Asia has been exceptional, and we know that our American and Canadian customers will really appreciate what this Lotus is capable of."
The cost of an Evora Sport 410 for the North American market is $104,200 while the Lotus Evora Sport 410 GP Edition is $110,000.