Porsche has expanded its Panamera lineup with the debut of the new Panamera Sport Turismo estate ahead of the 2017 Geneva Motor Show.
The Panamera Sport Turismo offers a little extra usability to Panamera customers with a completely redesigned rear section and a higher roofline for easier entry and exit. Porsche claims a 520-litre storage capacity for the vehicle (425 litres for E-Hybrid models), which is 20 litres more than the Panamera saloon, however with the rear seats folded flat, the gains are as high as 50 litres.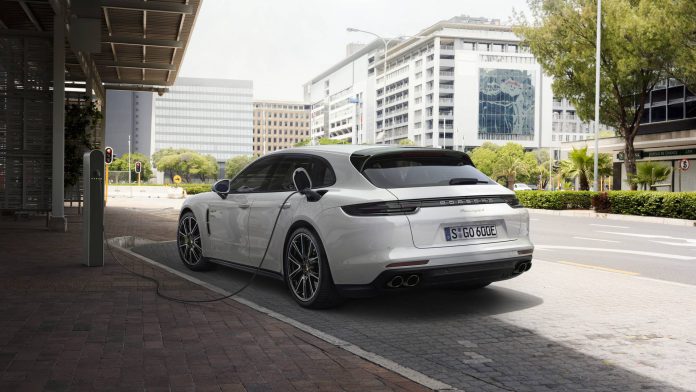 The Sport Turismo bodystyle will be available with the same powertrain options as the standard Panamera sedan. That means there will be an entry-level Panamera 4 Sport Turismo with 330 hp, a Panamera 4 E-Hybrid with 462 hp, a Panamera 4S Diesel Sport Turismo with 422 hp and a Panamera Turbo Sport Turismo with 550 hp. Porsche's 8-speed PDK automatic is used on all models.
2018 Porsche Panamera Sport Turismo
Further differentiating the Sport Turismo from the standard Panamera is the presence of a third rear seat. Rather than using a bench seat, however, the car retains the standard rear buckets seats and adds a small seat in the middle. Customers who would rather the typical 2+2 configuration of the standard car may choose to do away with the middle seat.
Porsche says the Sport Turismo utilizes all the technological advancements featured on the Panamera such as its Porsche Advanced Cockpit digital gauge cluster, Porsche Dynamic Chassis Control, Porsche Traction Management and InnoDrive adaptive cruise control. There's also a new adaptive rear spoiler (the first of its kind in the segment) that automatically deploys at speeds of 90 km/h or higher when the car is in Sport and Sport Plus driving modes. At speeds of over 170 km/h, the wing is set at plus one degree for a blend of stability and aerodynamic efficiency.
Prices start at 97,557 euro for the Panamera 4 Sport Turismo and grows to 112,075 euro for the Panamera 4 E-Hybrid Sport. The Panamera 4S Sport Turismo serves as the middle of the range model at 120,048 euro, with the Panamera 4S Diesel Sport Turismo costing 123,975 euro. The range-topping Panamera Turbo Sport Turismo will cost 158,604 euro. All prices are including VAT.