After years of secrecy, and months of sea trials, Lurssen finally delivered Project Omar over the weekend. Project Omar was the name coined by the media throughout the build process, her actual name is Dilbar. The name was lifted from ex-Dilbar, now known as Ona and both vessels are owned by Russia's richest man, Alisher Usmanov.
Superyacht Dilbar by Lurssen
[Photos by Claus Schäfe and Christian Eckardt]
Most details about Dilbar are still a mystery. With an overall length of 156 meters, Dilbar is considered to be the largest superyacht by volume. On the list of the world's longest superyachts, Dilbar is currently fourth behind Azzam by Lurssen and Blohm + Voss built Eclipse and Dubai yachts. Dilbar left Lurssen's facility in Bremen on Saturday.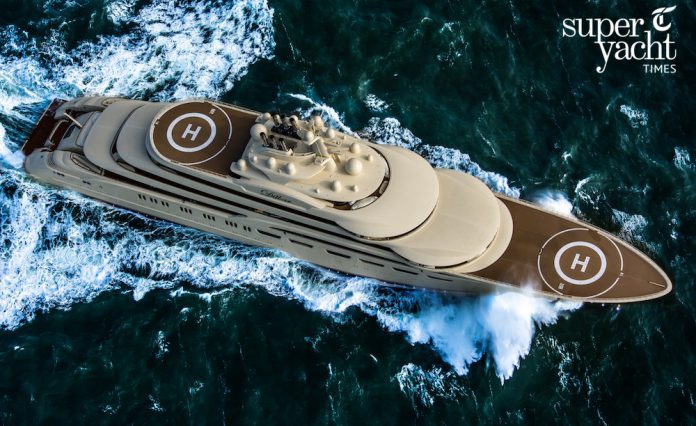 Further speculations state that Dilbar could host at least 40 guests and a crew of 80. The price has been estimated to be around $600 million, the yacht is not available for charter either. Espen Oeino was responsible for Dilbar's design, an all-cream paint job has been used on the exterior.
[Additional info via SuperyachtFan]