The third round of the 2016 FIA ERC season has witnessed a third different winner today at the Acropolis Rally in Greece. Latvian youngster Ralfs Sirmacis scored his maiden victory on his first ERC rally in an R5 car. Driving a Skoda Fabia R5 from Sports Racing Technologies that was backed by Skoda Baltic Motorsport, Sirmacis won the rally at a tender age of 21 years. He was the runner-up in the 2015 ERC Junior Championship.
Russian ERC veteran Alexey Lukyanuk was the closest rival to Sirmacis entering day two, but puncture on his Ford Fiesta R5 caused him to delay behind. Lukyanuk faced even more troubles when his car incurred a suspension problem along the Elatia/Karya test where he lost 17 minutes. This allowed Sirmacis to extend his lead before scooping victory with a 2m10.3s advantage over his rivals. He celebrated the victory with his co-driver Arturs Šimins who turned 26 today.
Later on, the Latvian was gifted the coveted Colin McRae ERC Flat Out Trophy for the incredible performance and went ahead to comment;
"It's really nice when you're on your debut and you win the rally. This rally is one of the most difficult in the world so I'm really happy."
Local Greek hero Lambros Athanassoulas was promoted to second place when Lukyanuk hit trouble. Athanassoulas however found himself behind a slower car on the last stage which caused him a significant time loss. The Skoda driver still managed to take second place and was later given back 32s for unfair obstruction. Third place on the podium also went to a Skoda driver, Jaromír Tarabus who crossed the line half a minute later after Athanassoulas.
Raul Jeets brought home another Skoda Fabia R5 in fourth place, marking a very successful rally for Skoda. The Acropolis Rally has been famously regarded as the 'car breaker' and is widely recognized as one of the hardest rallies in the world, for Skoda, this is an important achievement.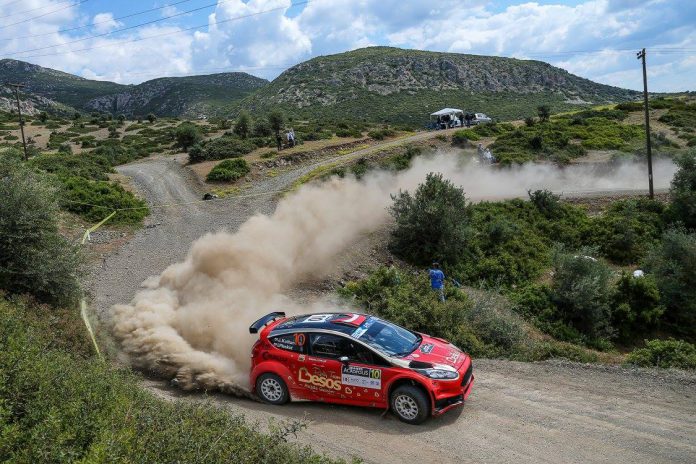 ERC2 driver Wojciech Chuchała finished fifth overall and first in his category, beating rivals Jose Luis Jacquet Rios and Tibor Érdi Jr. who claimed second and third respectively on the ERC2 podium.
Jarosław Kołtun led a three Ford lineup from sixth place to eighth which comprises of Tomasz Kasperczyk and Kajetan Kajetanowicz. After his day troubles, Lukyanuk finished the rally in tenth place behind Jose Luis Jacquet Rios.
The next round on the FIA ERC calendar will head over to Portugal for the Azores Rallye on June 2. When it comes to scenic views, Azores Rallye provides some of the finest.