It won't be long until the 2017 Mercedes-Benz E-Class will arrive at your local dealer. Press drives are happening as we speak so it's more than time to look ahead and await the arrival of the ultimate performance E-Class: the 2018 Mercedes-AMG E63.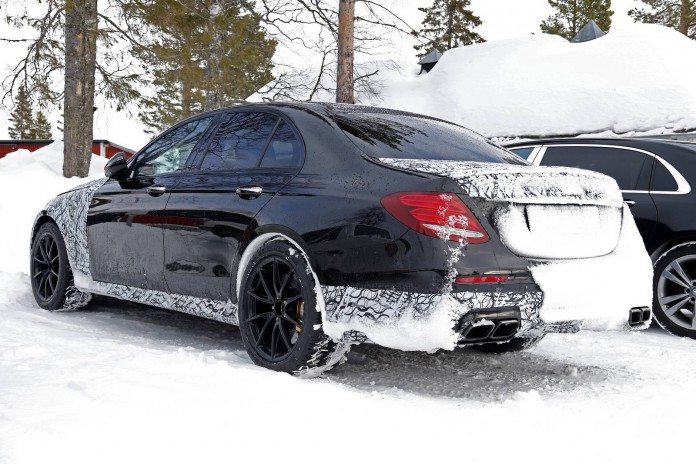 The fresh AMG is now undergoing winter testing and already shows sporty features such as the quad-exhaust pipes and slightly aggressive exterior styling. The 2018 E63 AMG is expected to receive the 4.0-liter V8 biturbo with an increased output that goes well past the current 503 hp that both the AMG GT S and C63 S produce. What's more is a dry sump lubrication system that will be fitted on the E63 AMG, something that both the AMG GT S and Mercedes-AMG C63 S don't have.
2018 Mercedes-AMG E63 Spy Shots
The modifications to AMG's V8 biturbo should translate to a 550 hp range output for the yet to be unveiled Mercedes-AMG E63, while the E63 S should even take it a level further. One thing is for sure, AMG boss Tobias Moers recently pointed out that it will take another few years to get the maximum potential out of the 4.0-liter V8, hinting that more exciting times are ahead.
Further rumors have indicated that the E63 is to receive Mercedes' 4MATIC all-wheel drive system, while other rumors suggest that a RWD E63 may possibly be discontinued. Something that can be said with certainty is that the new generation Mercedes-AMG E63 will yet again raise the bar to another level.