German company "Carbonfiber Dynamics" have recently taken on a project that involves intensively customizing the BMW M4, or BMW F82 if you will. The in the German Ruhrgebiet located company is known for carbon-fiber-made vehicle conversions, hence their company name.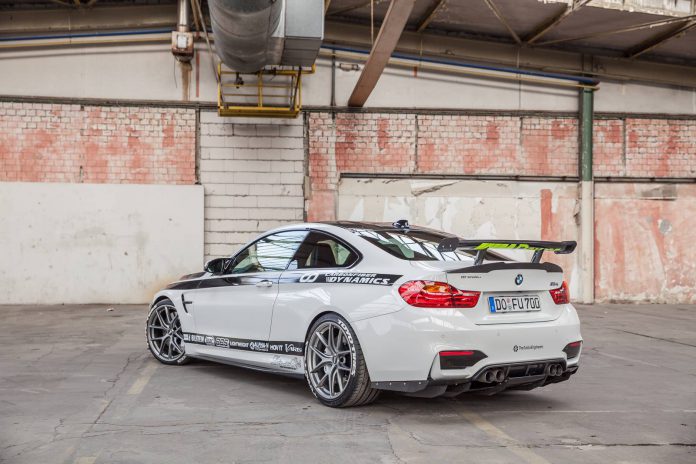 Number one reason to use carbon fiber in cars is of course weight reduction, which consequently improves the car's performance. It arguably also contributes to the looks of the car, and without a doubt adds to a vehicle's exclusiveness.
The project's official name is "Project M4R". Starting at the front of the BMW M4R, we see an aggressive front spoiler made entirely out of carbon fiber. On the side we see carbon fiber side sills and at the rear sits an unmissable carbon fiber spoiler, courtesy of "Alpha-N". What's left, visually that is, are the carbon fiber mirror caps and side grills.
Where the most progress is made in terms of weight reduction, is the functional System-1 diffusor, also completely made out of carbon fiber. It covers the rear floor assembly together with the exhaust system.
BMW M4 by Carbonfiber Dynamics
Not all is carbon fiber oriented with the Carbonfiber Dynamics company, as they have also put their hands on the M4's engine bay. A Burger Motorsport JB4 with CANBUS command and AGA valve command was installed. The M4's turbocharger also received an upgrade, with the M4's TTE6xx being fitted with a larger CNC milled compressor, a larger turbine, a gap optimized compressor side, a CNC milled compressor and a CNC ported intake manifold.
Put a lightweight exhaust system by "made in Germany" into the mix, fitted with an Akrapovic downpipe by the way, and the extra weight reduction of 40% already adds a 17.2 kW to the BMW M4's performance. Let's translate this into the BMW M4R's actual performance.
Carbonfiber Dynamics stated the following: "During a previous test drive, the measured 827 Nm of torque have brought the original clutch slowly but surely near to the limits of its stress capacity. Currently the M4 is running at almost 600 horsepower although the previous test runs were done at only 1.8 bar boost pressure. By increasing the boost to 2.3 bar and optimizing software plus petrol in combination with the usage of full methanol the targeted goal of 700 hp seems quite realistic."
Finishing touch on the BMW M4R are the 20-inch bespoke BBS platinum silver wheels. Wearing a rubber jacket by the name of Toyo Tires Proxes T1, no expenses were spared on the car's driving dynamics. That's not the end of it, Carbonfiber Dynamics have also equipped the BMW M4 with a prototype of Bilstein's B16 damp tronic coilovers, which hit the market in March 2016, creating an active suspension solution for the M4's chassis.