If you happen to follow the GT-R scene closely, then Gidi is a familiar name to you. He's well known for fielding some of the fastest supercars in various drag racing events in North America. Notably, he is famous for the blue Alpha 20 Nissan GT-R that won TX2K15 last year, claiming the title for the fastest and most powerful Nissan GT-R in the world. Prepared by AMS Performance, Alpha 20 was the spiritual protege of the infamous Alpha Omega.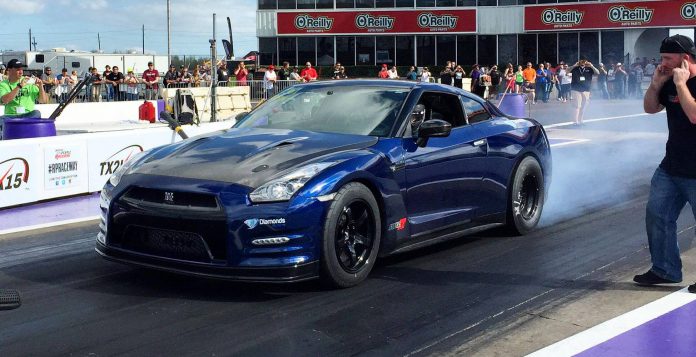 Alpha 20 met its fate at the DSM Shootout 2015 after it crashed following an oil line leakage. Gidi walked away unharmed but the car would not see a racetrack again. Luckily, Gidi had an Alpha 12 back in his garage and that's when he decided to build an even bigger project in conjunction with AMS Performance. While he was at it, he went ahead to claim the title for the fastest Lamborghini in the world after running a ½ mile at 234.86 mph in his UGR prepared twin-turbo Gallardo.
AMS Performance has now revealed the first pictures of Gidi's new build christened "Alpha G". This is the most extreme GT-R build yet by AMS, their aim is to extract 2500whp making it the most powerful GT-R build ever. The team is using Alpha Omega as a learning platform to perfect the new Alpha G. That said, it will be quicker and faster than any other build from the AMS shop.
Alpha G has been fitted with the newest Alpha VR38 Billet Version 2 engine block and two monstrous, forward facing Garrett GTX Turbos. For now, most specs are still secret but should be revealed before its first race at TX2K16 in March. The motor pictured in the engine is a dummy used for mockup purposes.
To discover more about Gidi and his cars, check out his official racing page, Diamonds by Wire Racing. The team currently has two active UGR Lamborghini Gallardos, a "daily driver" Lamborghini Huracan and of course the upcoming Alpha G.